Dolce & Gabbana go Olympic for debut sports scent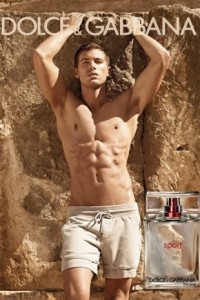 Dolce & Gabbana enters into the arena of sports fragrance following other major fashion houses such as Burberry, Chanel and Dior, certifying that the sport segment as the fastest-growing category in the male fragrance industry.
One Sport, first Dolce & Gabbana men's sports fragrance, which goes on sale in February, includes patchouli, cardamom, as well as accents of sequoia forest and rosemary. Male model Adam Senn is the face & body of the campaign that unveiled its toned physique while Adam is training in an ancient stadium.
The One Sport is dedicated to the upcoming London 2012 Olympics, so the first country where Dolce&Gabbana scent will be introduced is Britain. Before the start of the Games, the first men's sports fragrance from Dolce & Gabbana is scheduled to be global.