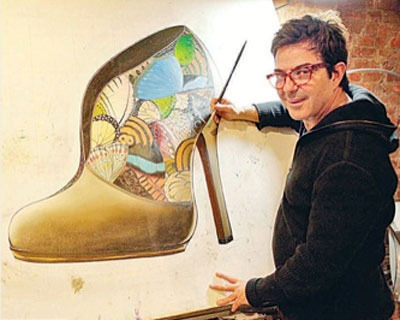 Helio de Sousa, the winner of the 2013 Brazilian International Press Award for Visual Arts, is a New York based artist originally from Brazil. Inspired by Andy Warhol's iconic 1956 painting "Boot," Hélio got his flash of insight that shoes have soul and started painting them in 2008. Shoes express our identity and feelings when we wear them and absorb some of our life experience.
"A shoe goes far beyond utility! It is an intense form of expression that can transform a person's image and relay their characteristics. Shoes help to create the most varied of attitudes – funny, childish, exuberant, austere, sensual" says the artist. "As we all know, you don't really know a person until you have walked in their shoes."
Helio de Sousa has painted over 50 soles including Francisco Costa – the creative director of Calvin Klein, the family of former Brazilian president Tancredo Neves, celebrity chef Lidia Bastianich, members of the De Niro family, and Carmen Miranda on behalf of the Carmen Miranda Museum in Rio de Janeiro.
The artist has exhibited his "Shoe Has Soul" paintings in exhibitions at Barney's New York, Ornare Miami, Consulate General of Brazil in New York and at the United Nations. In addition to the Banco do Brasil exhibition, Helio de Sousa will have an exhibition at the Brazilian Academy of Art, Culture and History in São Paulo, Brazil in October 2013.
The artist will exhibit the latest paintings in his iconic footwear collection, from July 25th to August 24th, 2013 at the Banco do Brasil branch located at 11 West 42nd Street in Midtown Manhattan.