Jaeger-LeCoultre custom pieces to support (RED)TM AUCTION:  Atmos 561 by Marc Newson clock & Memovox Tribute to Deep Sea.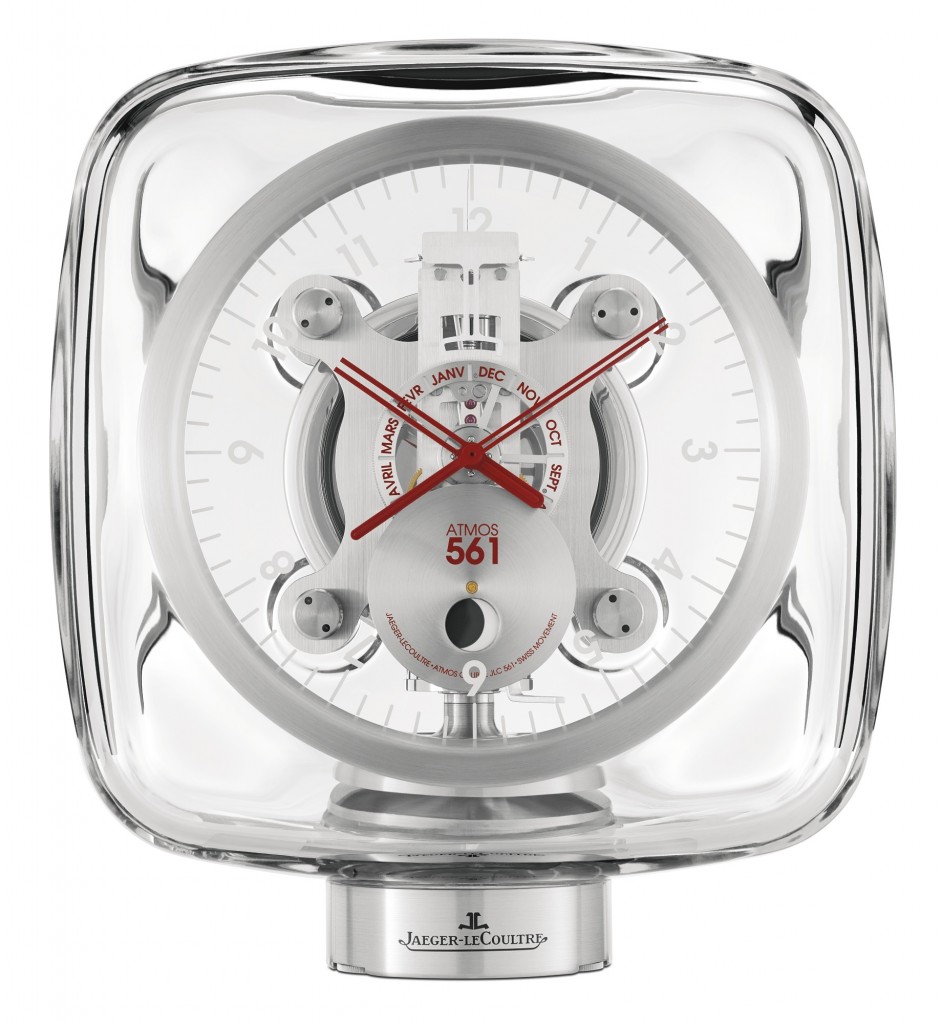 The Atmos 561 by Marc Newson clock and the Memovox Tribute to Deep Sea luxury diving watch, two Jaeger-LeCoultre's iconic pieces now feature unique red accents and will be auctioned at Sotheby's New York to benefit The Global Fund to fight against AIDS, Tuberculosis and Malaria.
Two of the world's foremost design pioneers, Sir Jonathan Ive, KBE, and Marc Newson, CBE, have collaborated with musician and philanthropist Bono to organize a (RED) Auction celebrating the very best of design and innovation. Jony and Marc have spent the past year and a half curating the collection, which comprises objects from disciplines as diverse as space travel and lighting design to contemporary art and rare automobiles, all unified and distinguished by their excellence and innovation.
The luxury items in the sale include a red Hermès riding saddle (estimated at $100,000 – $150,000) and a pair of bespoke Christian Louboutin studded boots (estimated at $20,000 – $30,000).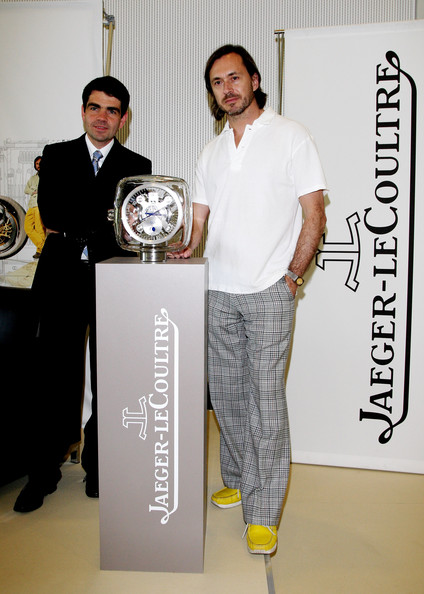 The Atmos 561 by Marc Newson clock (estimated 20,000 — 30,000 USD )
A unique piece of the Jaeger-LeCoultre Atmos 561 by Marc Newson has been customized by designers Sir Jonathan Ive and Marc Newson on the occasion of the 2013 (RED)TM Auction. The clock features red accents on the hands, the month indication and the calibre's logo. A (RED) TM and Marc Newson logo on the back and the inscription "Unique Piece" seal the unique collaboration between Jaeger-LeCoultre, (RED)TM and the designers.

Jaeger-LeCoultre Memovox Tribute to Deep Sea:
A re-edition in tribute to the legend of diver's watches from 1959. Piece No. 1 out of a limited series of three pieces featuring a red dial and the (RED) logo engraved on the case-back.
Leading the auction are the two items designed in their entirety by Jony and Marc – a unique Leica Digital Rangefinder Camera, which is, in and of itself, a feat of extraordinary engineering, and a unique aluminium desk produced by Neal Feay Studio. Joining these editions labeled 01/01 and specifically produced for the (RED) Auction are: a Steinway & Sons Parlor Grand Piano and a 2012 Range Rover, both customised by Jony and Marc; a unique version of Hermès' iconic Cavale saddle created in red leather with custom red stitching; a one-of-a-kind pair of classic Apple EarPods in solid rose gold; a Russian cosmonaut suit; a pair of Damien Hirst 'Spin Chairs' designed by Jasper Morrison; and a Dom Pérignon Œnothèque 1966 Magnum with custom red foil label, red ice bucket cooler and limited edition protective case.
"When you think of Jony and Marc, you think of design which is both iconic and sublime. Those two words can be applied to the unique collection of objects on the auction block this November. Each bang of that hammer will be raising critical dollars to fight AIDS… by getting medication to mothers with HIV which means they will not pass the virus on to their newborns," said Bono.
The more than 40 auction items have been captured by renowned photographer and filmmaker Andrew Zuckerman for a limited-edition auction catalogue designed by designer and illustrator Richard Allan. The publication features introductory essays by actor, poet and author Stephen Fry and Bono, as well as commentary from Jony and Marc.
The November 23 event follows the original (RED) auction held at Sotheby's New York in February 2008, the most significant charity auction ever held, which raised over $40 million to fight AIDS in Africa. 
Organized by Bono and Damien Hirst, the auction included works donated by Banksy, Anish Kapoor, Marc Quinn, Georg Baselitz and Howard Hodgkin, among others, and set records for 17 artists.