World Premiere of the new Porsche Cayman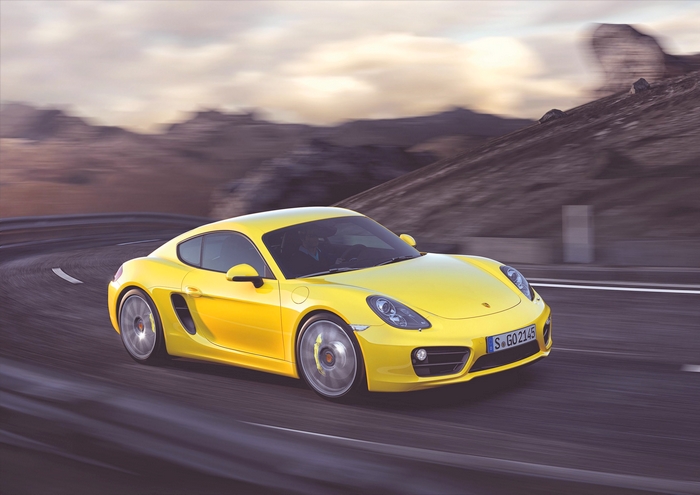 Porsche's third generation of the Cayman was celebrated at the 2012 Los Angeles Auto Show. The new Cayman is up to 30 kg lighter, depending on the specific model and equipment, and it consumes up to 15 per cent less fuel per 100 km than the previous model – despite higher engine and driving performance.
The new generation of the two-seat mid-engine luxury sports car is debuting in two classic Porsche versions: the Cayman and the Cayman S. The base model is powered by a 2.7-liter flat six-cylinder engine with 275 hp (202 kW).
It accelerates from zero to 100 km/h in 5.4 seconds, depending on the equipment, and reaches a top speed of 266 km/h. Its NEDC fuel consumption lies between 7.7 l/100 km and 8.2 l/100 km, depending on the selected transmission. The 3.4-liter engine of the Cayman S produces 325 hp (239 kW); the best possible acceleration from a standstill to 100 km/h is 4.7 seconds with appropriate features.
The Cayman S can reach a top speed of 283 km/h, and its NEDC fuel consumption value lies between 8.0 l/100 km and 8.8 l/100 km, depending on the selected transmission.
Porsche announced that it is also upgrading the Cayman with new optional features. For example, the sport coupé is now available with Adaptive Cruise Control (ACC) for the first time, which controls the distance to the car ahead in traffic and vehicle speed, as well as a specially developed Burmester sound system. Another new feature for the Cayman is the keyless Entry & Drive system, which is available as an option.