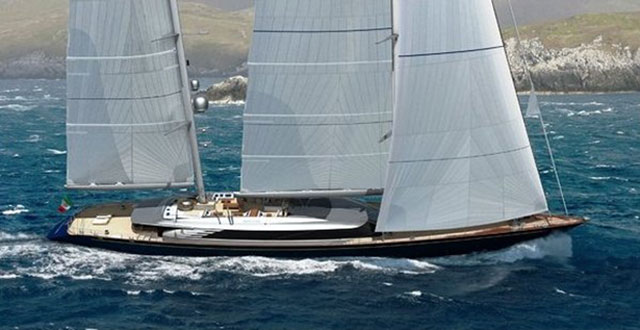 The new Perini Navi's 69m yacht, the second longest of the Perini Navi fleet after the clipper The Maltese Falcon, will be delivered in 2015.
The yacht, designed and created by the Perini Navi Group with additional consulting from Philippe Briand, is the latest expression of the high standards of design, technology and Perini quality.
The interior layout has been designed by the Perini Navi Design Office and will be completed in conjunction with the American interior design studio PH Design.
At the end of the year 2011 the Group's orders amount to about 170 million Euro, with six yachts sold and currently under construction. The Group has also invested in the construction of two sailing yacht hulls, of 38 and 60m, that can be sold and consigned within the next two years.
The past year has seen the launching of the sailing yacht Fidelis, the tenth yacht in the 56m series; of the 55m motor yacht Galileo G, the second launching to date of the Picchiotti brand's Vitruvius series; and of Clan VIII, the fourth yacht in the 45m series.
With a fleet of 53 yachts on the water- 51 sailing yachts and two motor yachts- the Perini Navi Group is the world leader in the design and construction of large sailing yachts.
[adsenseyu1]