A mechanical electric hybrid timepiece: An Apple watch combined with a regular watch on a single bracelet.
Swiss-watchmaking traditions with the support of the 38mm Apple Watch.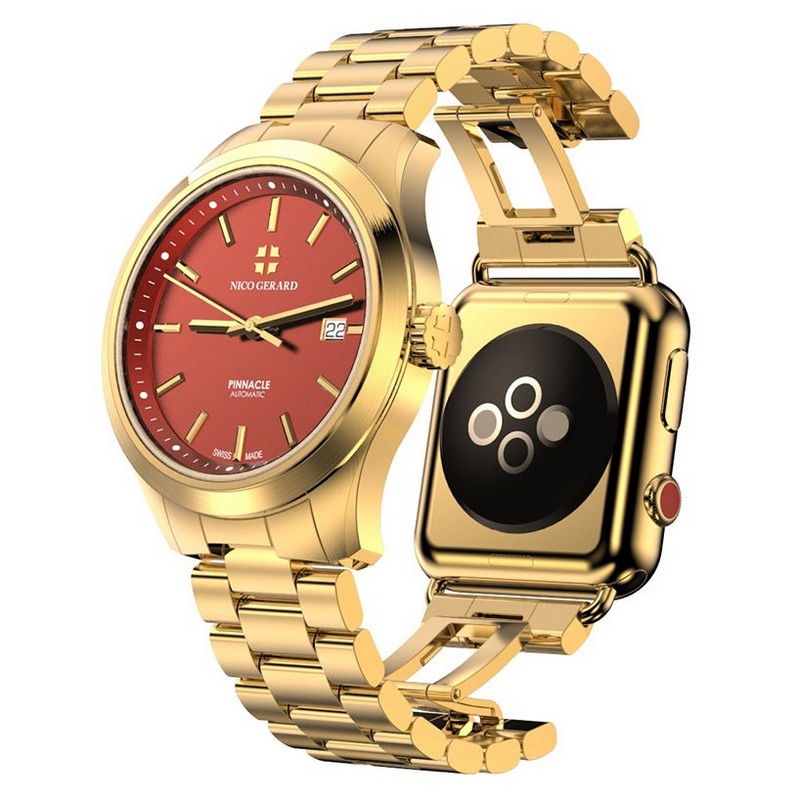 Nico Gerard's 'Pinnacle' double-faced timepiece is an accessory combining an Apple watch with a Swiss watch on a single bracelet. On one side of your wrist you will have a timepiece with a chronometer. Flip the wrist over, and you will have the 38mm apple watch or the apple watch 'edition'. A papillon double clasp sits symmetrically on each side of the smartwatch.
Inside the 41mm case lays the NG2824A movement, certified by the Contrôle Officiel Suisse des Chronomètres, the Official Swiss Chronometer Testing Institute, and is rated to 100-meter depths for pressure. Coming in both gold and stainless steel, each timepiece is made in Geneva, Switzerland.
With delivery expected in 10-12 months, the starting price of a Nico Gerard Pinnacle watch with a black dial is $9,300, while the blue dial is $9,500, and the 18k gold watch with red dial is $112,000.