2015 Wood Design Awards.



The 2015 Wood Design Awards celebrated outstanding wood building and design. British Columbia's best and brightest wood designers and architects gathered to celebrate the achievements in wood use implemented in the built environment.There were 107 nominations in 12 categories. All projects showcase distinctive and unique qualities of wood such as strength, beauty, versatility, and cost-effectiveness.
"Each and every one of these projects is spectacular in its own right, and demonstrates how wood can be used in innovative ways as an architectural and structural building material," explained Lynn Embury-Williams, executive director of Wood WORKS! BC.
 "Wood products and systems have become the material of choice in mid-rise residential as well as for the institutional, commercial and industrial sectors. This is a paradigm shift, and it's encouraging, as our communities and cities want more sustainable and healthier built environments. Here in BC, designers and builders are leading the way by using wood because it is cost-effective; is renewable; has a smaller carbon footprint; and because it creates beautiful and comfortable spaces where people love to live and work."
2015 Wood Champion Award was presented to Marie-Odile Marceau, Principal, McFarland Marceau Architects Ltd. in Vancouver. Marie-Odile Marceau has a long and distinguished architectural career in both the public and private sectors.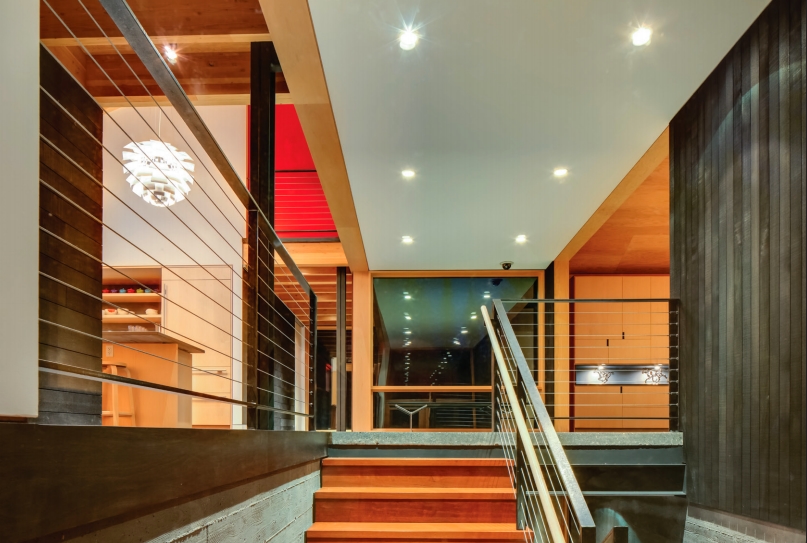 Eric Karsh, Principal, Equilibrium Consulting Inc. in Vancouver, was awarded the Engineer Award. Known and respected internationally, he shows his love of using wood through innovative structural designs such as the use of cross-laminated timber (CLT) "tilt up" balloon frame construction in his project, Ronald McDonald House BC – a first in North America. This is a system combining the convenience of concrete with the advantages of wood. He has developed the use of curved, organic shapes, cut from sheets of three-ply cross-laminated timber to form elegant roof and column elements at the UBCO Fitness and Wellness Centre in Kelowna. Karsh also co-authored "The Case for Tall Wood Buildings" report which introduced an innovative mass timber panel construction concept. Mr. Karsh was also the structural engineer of record for the remarkable Wood Innovation and Design Centre in Prince George, BC.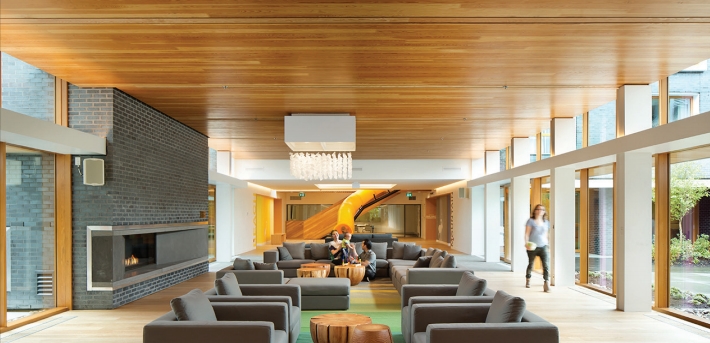 2015 Architect Award was presented to Vancouver-based Michael Green Architecture. This firm is always working on the next extraordinary wood structure, and has an impressive line-up of projects ranging from airports in Prince George and Ottawa, to a landmark social welfare facility fashioned from CLT. The recently-completed Wood Innovation and Design Centre, the tallest contemporary wood structure in North America, demonstrates economical and repeatable technologies for building high-rise structures with timber. Michael Green was also the co-author for "The Case for Tall Wood Buildings" which was the subject of his high profile TED Talk.
The Wood Innovation Award recognizes creative and innovative approaches in the use of wood in building and product design. The winner of this category was Michael Green, Principal, Michael Green Architecture for his project, the Wood Innovation and Design Centre in Prince George, BC. The structure represents a milestone in the future of tall wood buildings. The project introduces new methods of working with mass timber panels, specifically cross- laminated timber, and is a true showcase for BC wood products. The jury described this project as, "An exquisite interplay of structure and finish to provide a translucent, warm and inviting structure. The attention to detail is evident throughout, and provides pleasing aesthetic patterns which are both convincing and alluring."
The Environmental Performance Award was presented to Matheo Durfeld of BC Passive House for his project, BC Passive House Plant in Pemberton, BC. The award recognizes how wood products played a significant role in improving the overall environmental performance of a structure. The project was designed to meet the Passive House Standard, currently the world's most rigorous energy standard. The result: an 80-90 per cent reduction in the annual energy used for heating and cooling. The "wood first" approach for the structure of the building avoided approximately 365 metric tons of CO2 emissions. The jury stated that, "This building exemplifies the use of wood to achieve energy savings, and reduce environmental impact."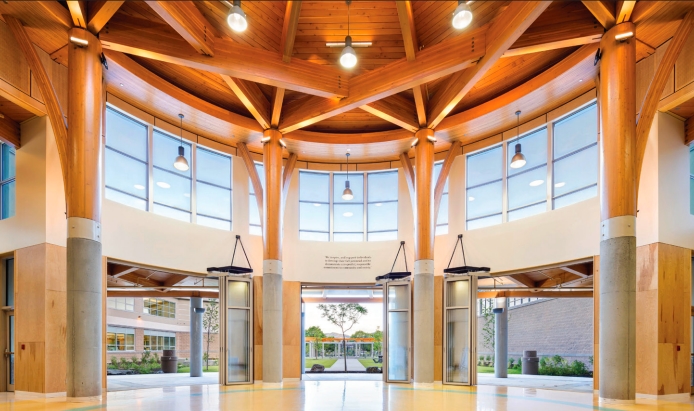 2015 Winners in the wood design categories include:
Residential Wood Design: David Ratzlaff, HR Pacific Construction Management Ltd. – Kicking Horse Residence, Golden, BC;
Multi-Unit Residential Wood Design: Eric Andreasen, Adera Development Corporation – Sail, Vancouver, BC;
Commercial Wood Design: Hugh Cochlin, Proscenium Architecture + Interiors Inc. – Mountain Equipment Co-op Head Office, Vancouver, BC;
Interior Beauty Design: Gregg Brown, KMBR Architects Planners, working in association with Nick Bevanda, CEI Architecture – Southern Okanagan Secondary School Expansion, Oliver, BC;
Institutional Wood Design – Small: McFarland Marceau Architects Ltd. – UBCO Fitness and Wellness Centre, Kelowna, BC;
Institutional Wood Design – Large: Michael Green, Michael Green Architecture – Ronald McDonald House BC, Vancouver, BC;
Western Red Cedar: McFarland Marceau Architects Ltd. – Environmental Learning Centre – North Vancouver Outdoor School, Brackendale, BC
The panel of four judges included Paul Newman, Executive Director, Market Access and Trade, Council of Forest Industries, Vancouver, BC; Thomas Tannert, PhD, P.Eng., Associate Chair Wood Building Design and Construction, The University of British Columbia, Vancouver, BC; Elsa Lam, BES, MArch II, PhD, MRAIC, Editor, Canadian Architect Magazine, Toronto, Ontario; and Don Lovell, Architect AIBC, CD, M.Arch. (Retired), Victoria, BC.