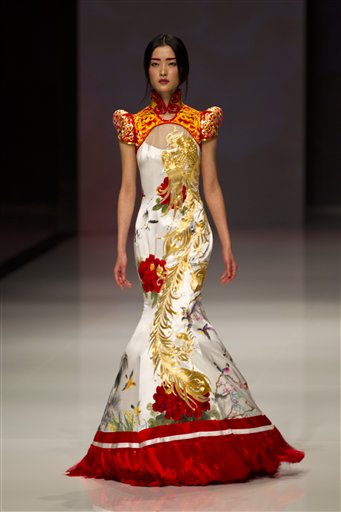 As a high-class fashion brand, NE.TIGER has led the opening show of China Fashion Week for 12 times in a row and made it for the 13th time. China International Fashion Week opened ceremoniously on October 25, 2013 with NE.TIGER 2014 "Great Yuan" Haute Couture Fashion Show.
As the successor of Chinese clothing culture, NE.TIGER has made a great effort to collect the Yuan Dynasty's classic clothing elements that have not and will never fade as time passes, and integrate it with international popular trends that focus on simplification and three- dimensional contouring, thus leading the new fashion of Chinese clothing culture.
"In Chinese history, the Yuan Dynasty is the most prosperous era in terms of ethnic fusion. The open mind and tolerance have enabled Chinese civilization to last for such a long time. Revival aims for emergence, while emergence is based on revival. Today, we recall the Yuan Dynasty and integrate the clothing cultures of various peoples by using the Western technique of three-dimensional tailoring to outline and show by contrast the implication and spirit of Chinese traditional clothes," said Zhang Zhifeng, NE•TIGER Artistic Director.
"We aim not only to reproduce the grandness and beauty of the Great Yuan Dynasty from the aspect of clothing design, but also to show the world Chinese civilization's spirit of openness, tolerance and incorporation. Other than the beautiful appearance of Chinese dress, we will inherit and develop the spirit totem held in our blood," added Zhang Zhifeng.