The House of the Trident unveils Ghibli Nerissimo Edition at 2017 New York International Auto Show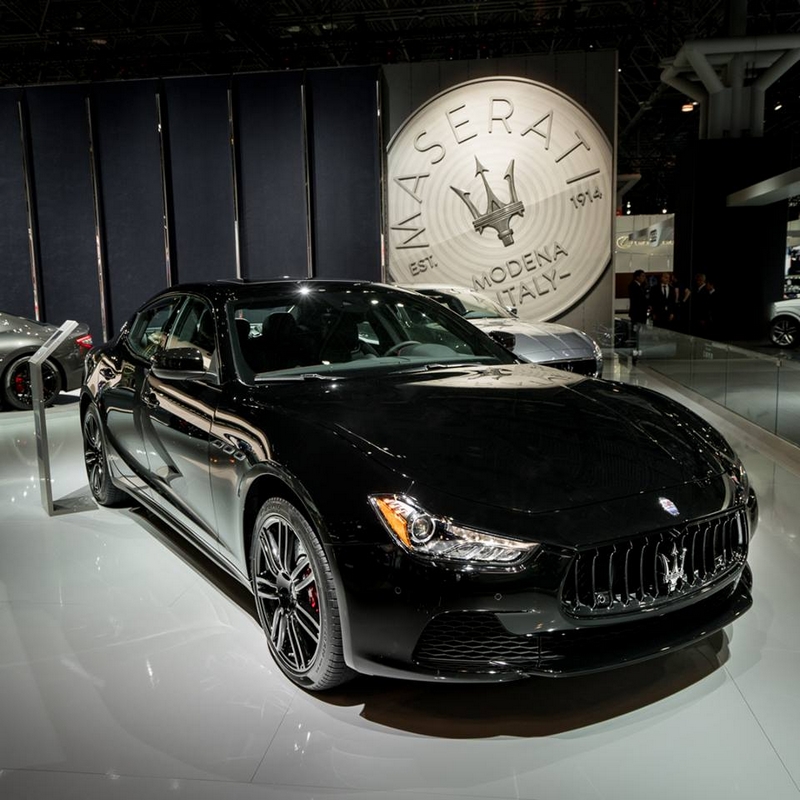 The Ghibli is the most accessible Maserati, with pricing starting at $71,600. The Ghibli S Q4 is priced beginning at $79,700.
Maserati has chosen the background of New York City to unveil a new special Ghibli model, the Nerissimo Edition, of which only 450 will be produced strictly for the United States and Canada. The debut of the Ghibli Nerissimo at the New York International Auto Show will showcase an edgier vehicle with a deep black palette. The name Nerissimo came from the Italian "extremely black."
The Ghibli S Q4 Nerissimo on display in New York delivers 404 horsepower and the handling agility of Maserati's Q4 intelligent all-wheel drive, gripping the road for maximum performance. It accelerates from 0-60 mph in 4.7 seconds, reaching a top speed of 176 mph.

The Nerissimo will be available as Ghibli, Ghibli S and Ghibli S Q4, and will include Glossy Black finish 20-inch Urano wheels, black door handles, black window trim and black grille features, as well a black extended leather interior featuring red stitching and gear-shift paddles, INOX sport pedals, red brake calipers, Dark Mirror interior trim, Sport Seats and a Sport Steering wheel. All models will also feature standard blind spot assist, front and rear parking sensors and remote start, while the Ghibli S and S Q4 versions of the Nerissimo will additionally be equipped with Harman Kardon stereo systems.
Pricing for the Ghibli Nerissimo will start at an MSRP of $77,250, with the Ghibli S and Ghibli S Q4 available at $84,000 and $86,500, respectively.
Additional new and varied offerings on display at the New York International Auto Show include two S versions of the Modena-based company's first SUV, the Levante, one of which features the exclusive Ermenegildo Zegna Edition interior, as well as the Quattroporte S Q4 GranSport and GranTurismo Sport Special Edition.