Marchi Mobile EleMMent Palazzo – World's most expensive motorhome
A new era in luxury vehicles
Marchi Mobile, an automotive brand that represents exclusivity and extravagance, sparked a fire in luxury mobility.
The eleMMent series from Marchi Mobile is a new class within the premium segment of RV vehicles, targeted to enthuse lovers of the extraordinary and visionaries that are stylistically at ease.  Giving the price tag of $3 million, Elemment Palazzo is the world's most expensive motorhome is up for sale.

The eleMMent palazzo unites characteristics from motor, yachting and aviation sports such as a sports car rear diffuser, the business jet gang way or the motor yacht flybridge. The interior is just as extravagant as its owner: minimalistic and modern shapes fused with classy and antique design elements embedded in timeless ambiance.
Relax with your friends by having a chilled drink from one of the bars on your fully automatic liftable flybridge lounge or on the welcoming couch area inside.
Transform your couch area by the push of a button into a stylish bar furniture. That way you glory in your private party on two entirely equipped floors.
The comfortable retreat is guaranteed by the master bedroom with its own integrated bathroom for a pleasant recovery. Numerous inventions ensure that you experience the greatest level of comfort and security. A programmed central control provides all important information at a glance. Set-up and dismantling is executed by a graphic interface via touch screen.
Park in front of your favorite restaurant and monitor your eleMMent palazzo via an additional control unit. Remote video access allows you to show your friends the exterior and interior and also permits to pre-set the lighting and temperature for you return to the vehicle.
The eleMMent Palazo incorporates biomorphic shapes inspired by nature in a symbiotic relationship with design and function.
Partially based on the Colani design, the eleMMent offers reduced fuel consumption of up to 20% by its trendsetting aerody- namics, thus creating economic and ecologic harmony. Despite its eco-friendly values, the eleMMent is truly sportive with more than 500 hp, a unique carbon-fiber rear diffuser and double tube sport exhaust.
On top of that, the eleMMent offers a considerably higher safety rating than regular heavy vehicles due to the high compound strength of the glass fiber plastic cabin and the elevated seating position.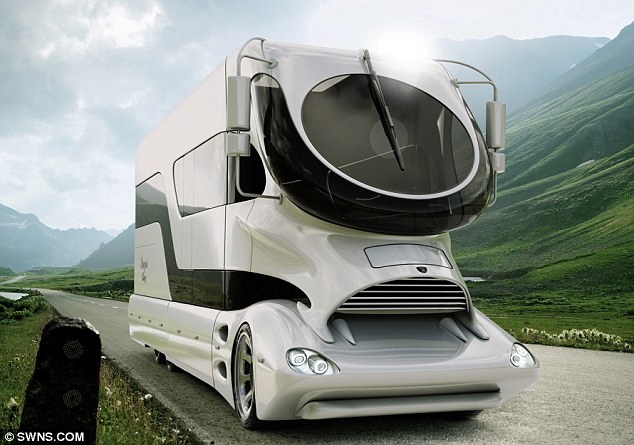 The 20-ton Palazzo can reach speeds of 93 mph, and uses 20% less fuel than vehicles of comparable size due to its aerodynamic design. The designers at Marchi Mobile say Palazzo is completely customizable, and if you have more money to spare, they'd welcome any outrageous modifications, going as far as to cover it in diamonds. Giving the price tag of $3 million, Elemment Palazzo is the world's most expensive motorhome is up for sale.
 EleMMent Palazzo Features:
* 510bhp engine giving the 20 tonne eleMMent palazzo a top speed of 93mph
* Reduced fuel consumption of up to 20 per cent thanks to trendsetting aerodynamics, thus creating economic and ecologic harmony.
* Despite its eco-friendly values (relatively speaking, taking into account the palazzo is a large vehicle), the eleMMent is truly sportive with its 510 bhp, unique carbon-fibre rear diffuser and double tube sport exhaust.
* Higher safety rating than regular heavy vehicles due to the high compound strength of the glass fiber plastic cabin and the elevated seating position.
* Pop-up bar with underfloor heating and party lighting
* Master bedroom with 40in flatscreen television and en suite with rainfall shower
* Glow-in-the-dark paint to improve night safety
* All mod cons, including video surveillance, mobile internet and a working fireplace
[adsenseyu1]
Read more:  marchi-mobile.com |