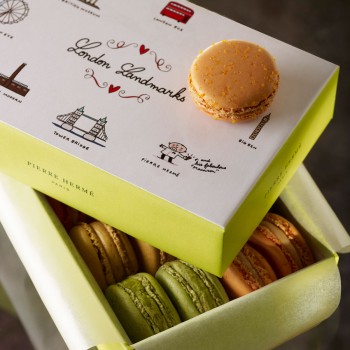 French luxury macaron makers released special editions packagings and new flavors for the London Olympic Games. The Union Jack in honor of the Olympics can be seen in gourmet pastry such as Fauchon and Pierre Hermé.
From 27 July to 12 August 2012, Fauchon is the official caterer of the Club France. On this occasion, Fauchon's head pastry chef Fabien Rouillard, has created a limited edition cassis-flavored macaron with white chocolate (One Fauchon macaron is €1.70).
Haute macaron designer Pierre Hermé salted-butter caramel, milk chocolate and passion fruit, and jasmine flower and jasmine tea flavors for his special Olympic box set (12), retailed for €27.