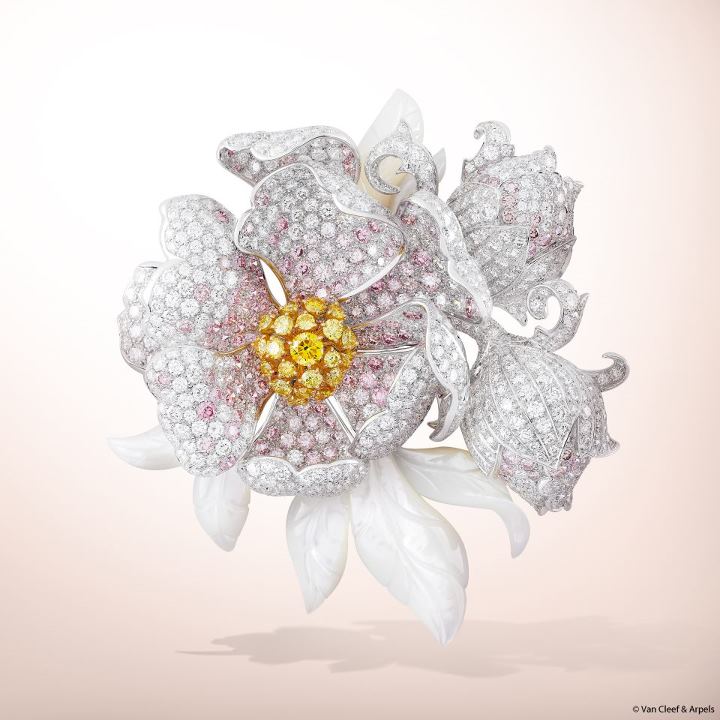 "Pour avoir de la chance, il faut croire en la chance" (To be lucky, you have to believe in luck)".
In order to celebrate Jacques Arpels' famous expression, in 2012, Van Cleef & Arpels opens the doors to the palace in which it has brought together 150 unique High Jewelry pieces. This Palais de la chance collection is inspired by symbols from various cultures. These creations are all expressions of luck, and their appeal and meaning are universal.
The diamonds selection has required a strong attention from Van Cleef & Arpels'gemologists to match with the Maison's highest quality standards. Traditional materials, such as white gold, diamonds, emeralds, were mixed with unexpected materials such as chrysoprase beads, opals, or turquoise.
Palais de la Chance include a Pivoine clip in white gold, white and pink diamonds, yellow gold, yellow diamonds and white mother-of-pearl. The peony flower, in China, symbolizes nobility, opulence, honor and eternal love. One of the highlights is a Trèfles clip, a four-leaf clover is universally known as a good-luck charm.
In June, Van Cleef & Arpels announced also the opening of its new boutique at Galeries Lafayette Haussmann, Paris. Located on the 1st floor of the famous Parisian department store, this boutique recreates the intimate atmosphere of a feminine and refined private apartment.