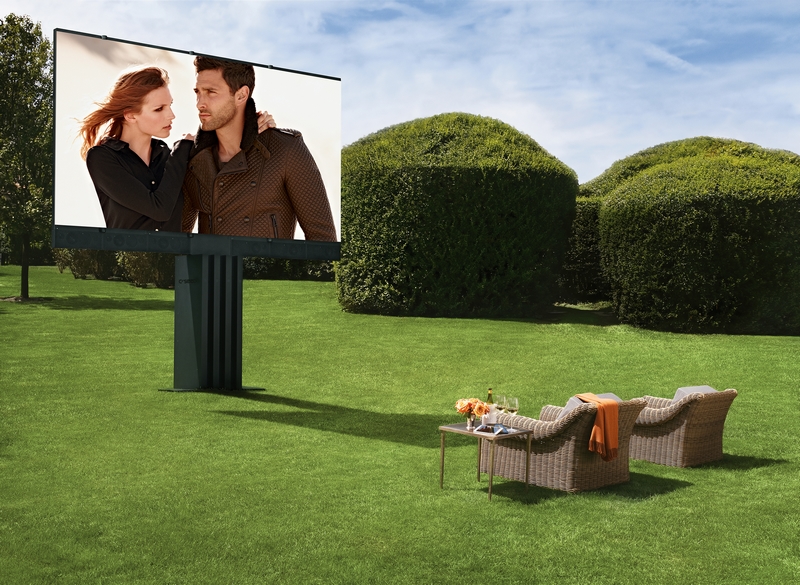 That never-ending argument over who controls the remote is no longer an issue with "His & Hers" 2013 Ultimate Outdoor Entertainment System
featured in Neiman Markus' 2013 Christmas Book and one of our Christmas fantasy gifts.
A true audio- and video-phile's dream, you click a button and your television emerges from its discreet, underground cache, telescoping
upward and unfolding to reveal its mega 201″ C SEED screen. The accompanying speakers, developed by CAT-California Audio Technology, use the most advanced marine-grade components specifically developed for super yachts. The system includes technologically advanced speakers, subwoofers, and amplifiers that project unparalleled sound, a DirecTV satellite and DVD management system, and a built-in movie package featuring up to 300 movies and concerts (The American Film Institute's 100 Most Thrilling American Films and 100 Greatest Love Stories, the remaining 100 are your choice). Two Apple mini iPadsTM serve as the remotes; one for him and one for her. With every Ultimate Outdoor Entertainment System purchase, Neiman Marcus will donate $10,000 to The Heart of Neiman Marcus Foundation. The system is priced a
$1,500,000.