Gulfstream introduced new aircraft family.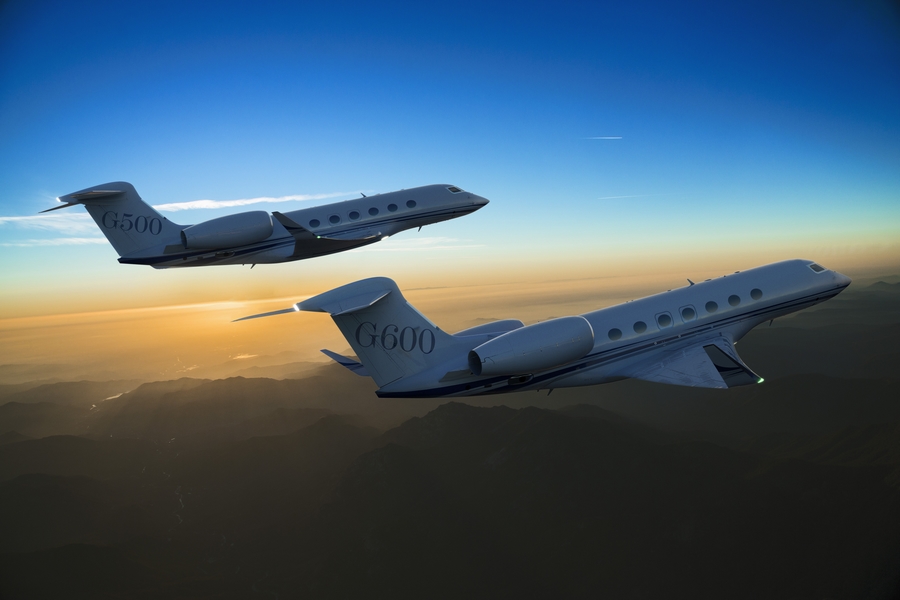 Gulfstream Aerospace introduced an all-new family of business jets: the Gulfstream G500 and G600. The two new aircraft optimize speed, wide-cabin comfort and efficiency to offer performance with advanced safety features. Gulfstream also announced orders were lining up from Flexjet and Qatar Airways. The two new business jets will be able to carry up to 19 passengers, with multiple living spaces, the first flight of the G500 being scheduled for 2015.
Speed is one of the biggest differentiators. The G500 and G600 can fly at a high-speed cruise of Mach 0.90, saving operators up to an hour per flight versus flying at Mach 0.80.
According to Gulfstream, the G500 aircraft can fly long distances at high speed: 5,000 nautical miles/9,260 kilometers at Mach 0.85 or 3,800 nm/7,038 km at Mach 0.90. The larger G600 is capable of traveling 6,200 nm/11,482 km at Mach 0.85 or 4,800 nm/8,890 km at Mach 0.90. The maximum operating speed for both aircraft is Mach 0.925, the same speed as Gulfstream's G650 and G650ER.
"I could not be more pleased to announce the next generation of Gulfstream aircraft," said Larry Flynn, president, Gulfstream. The G500 and G600 build upon the technology present in our G650 and our latest aircraft, the G650ER. Once again, our customers played a major role in the development and creation of these aircraft. The G500 and G600 continue the long Gulfstream tradition of being the first original equipment manufacturer to ensure an optimal combination of speed, range, wide-cabin comfort and fuel burn."
Carrying up to 19 passengers each, the G500 has three living areas, and the G600 has up to four, as well as an optional crew rest. Both aircraft have forward and aft lavatories and include a full-size galley that can be located in either the forward or aft portion of the aircraft. Ample storage space is also prevalent in the baggage compartment, which has 175 cubic ft/5.0 cu m of usable volume.
Both aircraft feature an industry-leading cabin altitude of 4,850 ft/1,578 m at FL510 and 100 percent fresh air that boosts mental alertness and productivity while reducing fatigue. The quietest cabins in the industry provide an ideal environment for work- related discussion or social conversation. Large oval windows, the same size as those on the G650, allow natural light to pour into the cabins, announced the manufacturer.
The launch customer for the two jets si Flexjet, a provider of fractional aircraft ownership services.
The industry-first ACSs offer enhanced safety and situational awareness over passive sticks through tactile feedback. With electronic linking of the ACSs, the pilot and co-pilot can see and feel each other's control inputs, which helps improve pilot coordination in the cockpit.
"The active control sidesticks enable both pilots to be consistently on the same page, enhancing safety," said Dan Nale, senior vice president, Programs, Engineering and Test, Gulfstream. "No other business aircraft on the market has this feature."
Adding to the pilots' more intuitive interaction with the aircraft are 10 integrated touchscreens, which will be used for system controls, flight management, communication, checklists and monitoring weather and flight information.