De Voogt Naval Architects designed Feadship QI yacht concept of 56 metres
Feadship Future Concept called Qi is Feadship's main attraction at the Dubai International Boat Show 2012.
The word "Qi" represents the idea of a circulating life force or energy flow that permeates creation. This notion neatly encapsulates the essence of the 2011 Future Concept Feadship, incorporating the lines of the Chinese character in its design and making the most of her surroundings both inside and out.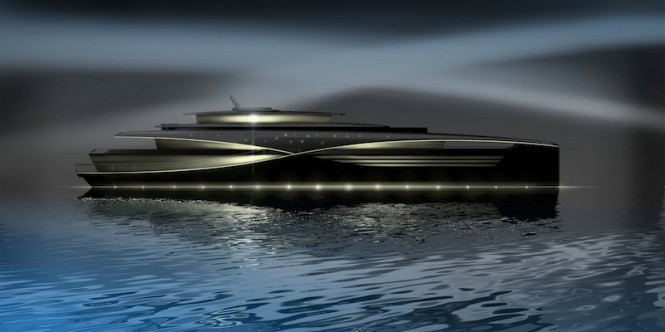 Feadship Qi offers all the facilities imaginable for maximum onboard comfort. The four guest cabins are located on the lower deck, each with sliding doors to their own private terrace. Amidships the hull doors open up to reveal a gigantic spa and a portside gym.
The main deck lounge offers stunning vistas and be easily transformed into a party area, seating and relaxation zone or a gigantic cinema with a 180-degree screen. Cosiness is assured on the sun deck, where a 'camp fire' can be enjoyed at night in the centre of the Jacuzzi, says Feadship about its new superyacht.
At the 2012 Dubai Boat Show Feadship will showcase also models of the 81m motor yacht Air, 77.70m yacht Tango and other Feadships launched over the past year including M/Y Fountainhead (87.78m), motor yacht Musashi (87.78m), yacht Air (81m), Lady Britt (63m) and the Helix yacht (45m).