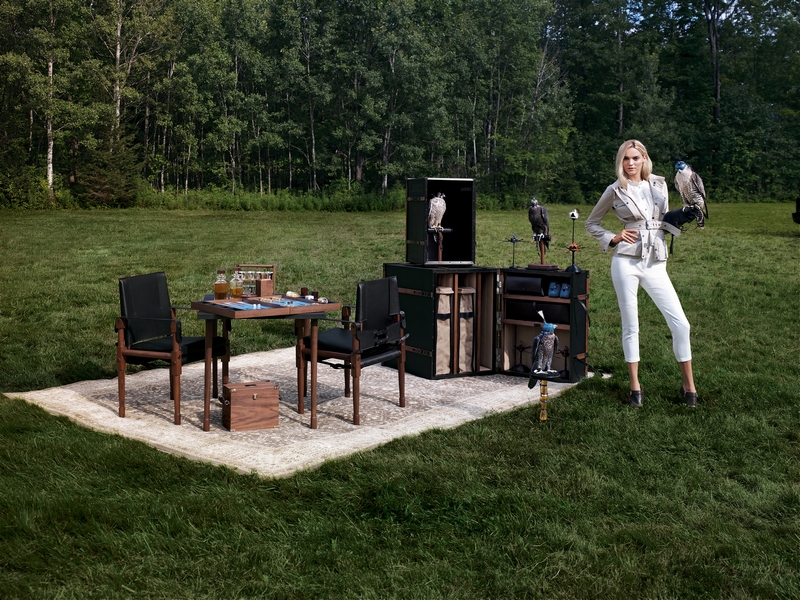 The title of Master Falconer requires a special companion. The birds are ready, and your gauntlet is in place. Time to hunt! You consider yourself lucky to take part in an ancient sport once reserved for nobles of Medieval Europe, the Middle East, and the Mongolian Empire. A prime local has been found, and you and your fellow hunters set up camp. Gazing upon your portable mew and matching custom trunk, you marvel at the 20-karat gold-plated perch, hand-carved stands, leather perch scale, and hand-sewn glove, anklet, and exotic-skin hoods by
Ken Hooke, the world's preeminent falconry hood maker.
Next, the furniture: Chatwin chairs and a foldout table by Richard Wrightman, the foremost designer of bespoke campaign furniture. You unfold the beautiful, handmade backgammon board from Alexandra Llewellyn, pour yourself a drink from one of the lead crystal decanters, and select the cigar you'll enjoy, using your matching cigar cutter by David Linley.
"Bespoke Global is honored to have been selected for the prestigious Neiman Marcus Fantasy Gifts. My collaboration with some of our
leading artisans to create The Falconry Companion showcases their exceptional craftmanship and I hope it gives a very lucky falconer a
lifetime of enjoyment and use. The falcon hoods were made for a female gyr hybrid, but of course can be made-to-measure for any number of
stylish raptors," said Gwen Carlton, Co-Founder Bespoke Global.
The Bespoke Global Falconry Companion can be purchased at Neiman Marcus for $150,000. The luxury retaile will donate $1,500 to The Heart of Neiman Marcus Foundation.

Bespoke Global Falconry Companion Trunk Contents:
Two Chatwin chairs with canvas tote bags.
Folding table.
Leather perch scale.
Gold perch.
Decanter & cigar carrying case.
Backgammon board.
Hoods.
Two savers.
Glove.
Anklet.
Leashes and jesses.
Falcon Hood Stands.