2016 Sturgis Motorcycle Rally: Ducati Xdiavel now has an American design influence by Californian customizer Roland Sands.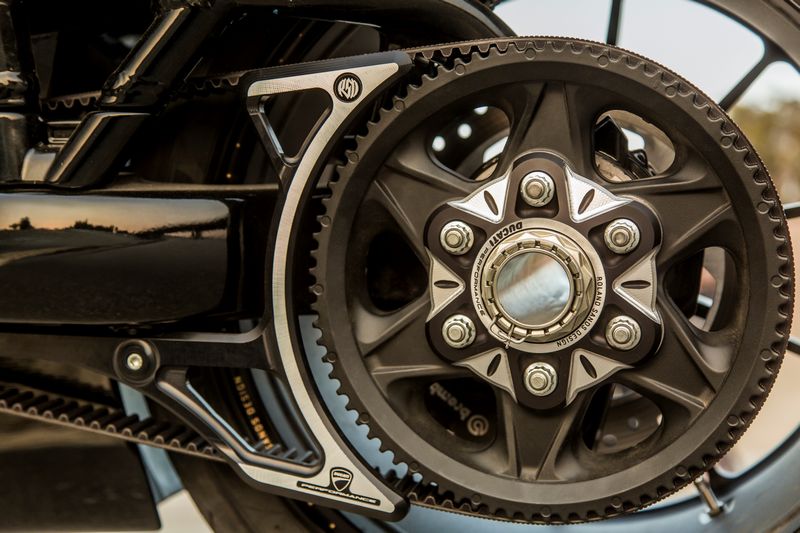 The unmistakable look of the Ducati XDiavel, the recent winner of the Red Dot Design Award in 2016, now has an American design influence by Californian customizer Roland Sands.
Ducati and the new XDiavel took part at the 76th annual Sturgis Motorcycle Rally (from August 5 to 14 at Sturgis, South Dakota, USA), the largest motorcycle rally in the USA and the world's renowned cruiser event. Dating back to 1938, the Sturgis Motorcycle Rally draws over half a million bikers from every corner of the globe, all like-minded enthusiasts looking to celebrate and share their passion.
The Roland Sands built XDiavel unites the Ducati cruiser with iconic American motorcycling.With a one-piece body fixed to the distinctive Ducati trellis frame, a 19" front wheel for a bold look, and a collection of billet aluminum details that deliver a unique result, this XDiavel has
transformed into an even more decisive, radical sport-chopper cruiser.
In addition to the custom design XDiavel, Roland Sands Design has created an exclusive line of special accessories and components, featured in the Ducati Performance catalogue, and currently available at Ducati dealers.
"As motorcyclists we are part of a tribe, but we also embrace our individuality. This custom-built XDiavel by Roland Sands Design embodies the spirit of personalization that makes this Rally so special. The XDiavel and this interpretation provides us an opportunity to share Ducati with all in attendance," said Jason Chinnock, CEO of Ducati North America.
"The XDiavel is a beast. A wolf in wolves' clothing and a serious piece of speed equipment," said Roland Sands, owner of Roland Sands Design and lead designer on the custom build. "We really wanted to pivot off all that amazing technology and not mess it up by tearing it out. So the bike is still very stock from a functional standpoint. The bike was a 3-month build, with careful consideration and deliberation about the direction of the design. Ultimately, we decided to twist the aesthetic while retaining decidedly 'stock' bike functionality. I'm proud to say that's exactly what we've achieved," said Roland of the build.