Here is an opportunity to own a small engineering marvel.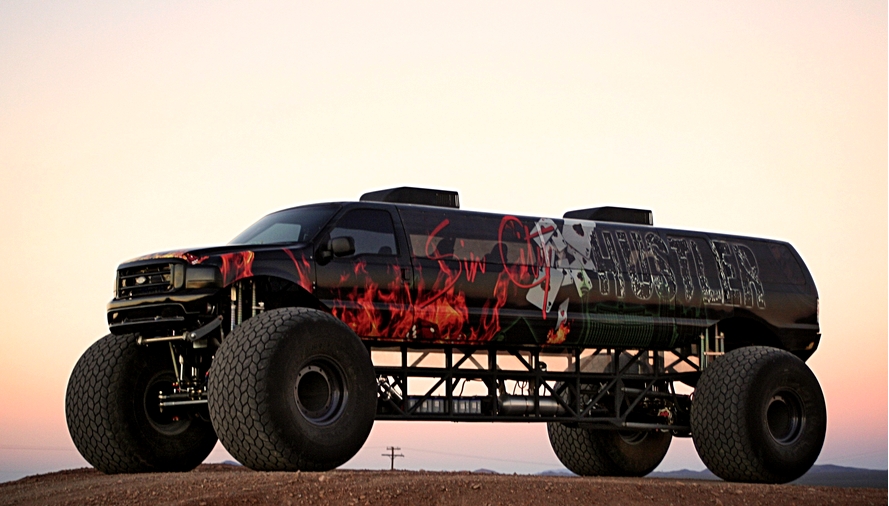 To the casual eye, this is a monster truck, extreme and loud. To the more discerning person, they will see the mechanical feat this truly is. At 10 meters in length and standing 3.65m tall, the Sin City Hustler is the world's first 'luxury' monster truck. Created by bespoke vehicle maker Big Toyz Racing Motors (BTR), the $1 million Sin City Hustler based on a Ford Excursion has an 8.5-liter big block Ford motor, generates in excess of 700hp, tips the scales at 6800kg and can carry 12 passengers in individual racing seats. Unluckily, the Sin City Hustler is not road legal, the vehicle is built for off road exploration. The hand-built Sin City Hustler can be a perfect addition to a serious car collector's portfolio.
"We spared no expense when it came to building the Sin City Hustler," said Brad Campbell, owner of Big Toyz Racing Motors. "From its custom 521 cubic inch big block motor and hand built chassis, to its killer design with hundreds of one-off billet parts and show quality paint, this one-of-a-kind monster truck is nothing short of spectacular."
"When we commenced the fabrication of this behemoth, cost, time, and perfection were not factors in deciding whether to build or not," continued Big Toyz Racing Motors team.
"While we are sad to see it leave, it's time to give someone else the opportunity to enjoy it. Whether you choose to take it to the dunes, impress your friends, market your company, or use it as a lucrative business, this truck will make a statement wherever you go," said Jennifer Campbell, BTR co-owner. Additionally, 80k+ in new spare parts will come with the truck, and a list is available upon request.