Ritz-Carlton hotels collaborates with Asprey to bring travelers the very best hotel amenities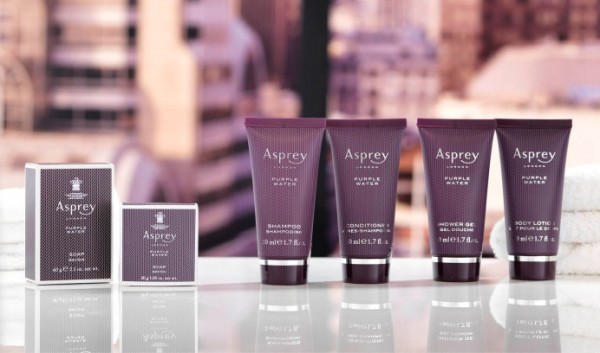 Ritz-Carlton luxury hospitality chain and London-based luxury house Asprey announced a new alliance between the two luxury brands. Ritz-Carlton's guests will be able to use Asprey Purple Water amenities in the guestrooms.
Holding a royal warrant and dating back to 1781, Asprey is renowned as makers of fine jewelry, china, silver, leather, watches, rare books, polo kit, special commissions, and "items for the pleasure of giving". The Asprey bath and body range features their signature scent, Purple Water. The fragrance was originally created to be a distillation of the rich and creative past of Asprey, and its exciting and luxurious present; a fresh citrus fragrance blended with spicy undertones. Base notes of vetiver root, pepper, and musk bring an earthy, woody and timeless depth to the fragrance, and create images of Asprey past, of libraries full of books and croquet games on the lawn.
"The Ritz-Carlton Hotel Company prides itself on creating experiences so exceptional that the memories of a hotel visit will stay with our guests for a lifetime," expressed Herve Humler , President, C.O.O. and founding member of The Ritz-Carlton. "From concierge services to housekeeping, dedication to the art of the craft and much care goes into every moment of a guests' journey during a visit to our hotels. Our partnership with Asprey is one that will truly enrich a guest's experience at a Ritz-Carlton."
"The unrivaled Asprey craftsmanship, fine jewelry and luxurious leather items are timeless treasures that our hotel guests and neighboring residents will greatly appreciate," said Humler. Just as over many generations Asprey has developed into a fine British luxury retailer, The Ritz-Carlton has long been synonymous with unparalleled service and refined luxury.
The Ritz-Carlton's previous partnerships included a collaboration with Bulgari. The hotel company currently operates 81 hotels in the Americas, Europe, Asia, the Middle East, Africa, and the Caribbean.