2020 Gucci Flora Gorgeous Gardenia features an opulent floral heart. The fragrance is inspired by the untamed beauty found in nature at springtime.
Captured in a new fragrance campaign amongst glittery lights and soft flower arrangements, the new limited-edition Gucci Flora Gorgeous Gardenia lavender-hued bottle design encapsulates the intense fragrance. Gucci Flora Gorgeous Gardenia is combining the lightness of the gardenia's first blossom and the richness of its flower in full bloom.
The fragrance collection—which includes Gucci Flora eau de toilette, Gucci Flora eau de parfum and Gucci Flora Gorgeous Gardenia – is presented in colourful packaging highlighting flora and fauna from the Gucci's famed Flora print, originally designed by artist Vittorio Accornero in the 1960s.
The new campaign to celebrate the new 2020 Gucci Flora perfume is captured by artistic duo Pierre et Gilles who reference art history and pop culture to create a fantastical setting. Twisting vines and pale roses complement the new campaign featuring Unia lounging in a scene evocative of an ancient era.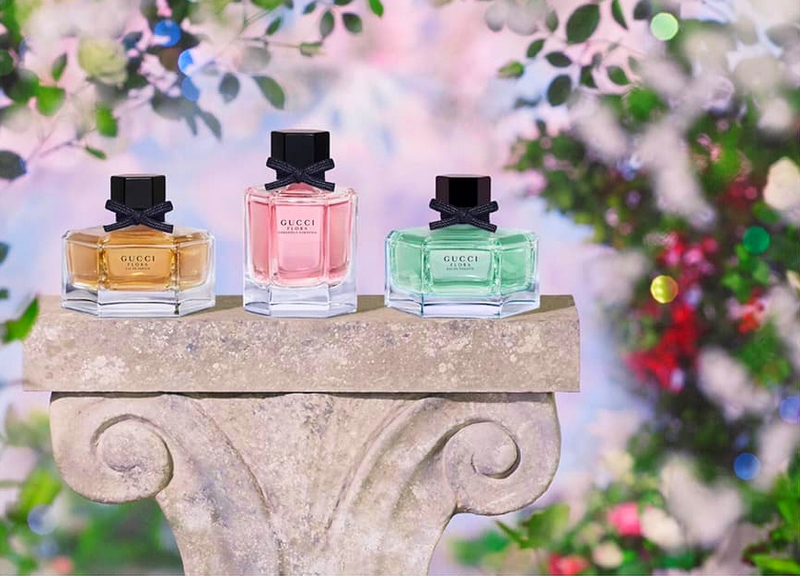 "I've always wanted to collaborate with Pierre et Gilles. I like their idea of estrangement from reality, their dialogue with fantasy, with the surreal and with the sacred linked to pop. I find there are many connections with my work. If there is something that needs surrealism and transcendentalism, it is precisely the idea of perfume, so it was therefore natural to work with them on this project," said Alessandro Michele, Gucci Creative Director.
Opening with red berries, the limited-edition Gucci Flora Gorgeous Gardenia perfume features an opulent floral heart: White Gardenia petals are enhanced by the Frangipani Flower and underlaid by the aroma of Patchouli and Brown Sugar.