Mikimoto Jeux de Rubans high jewellery is portraying the timeless motif of ribbons with a touch of luxurious whimsy.
125 years ago, Mikimoto's founder, Kokichi Mikimoto, succeeded to create the world's first cultured pearl. Since then, the house of Mikimoto has been built upon his dedication to the pursuit of beauty by adorning women around the world with pearls.
2018 marks 125 years since Mikimoto founder Kokichi Mikimoto succeeded in the cultivation of pearls. This year Mikimoto also had the honor of being made an official "Haute Joaillerie" member of the "Fédération de la Haute Couture et de la Mode".
The latest Mikimoto collection, "Jeux de Rubans," draws inspiration from ribbon motifs. A necklace of a white ribbon was inspired by a tightly knotted bow. Delicately strung pearls depict the fluttering them of a ribbon. Each piece is a charming design, featuring the ribbon motif in its own unique and whimsical way.
The color graduation of pink sapphires corsage brooch gives the necklace a three dimensional effect, one-of-a kind dramatic look. The ring's design was inspired by how the swirling spiral of a ribbon evokes a flower.
The presentation of a new high jewellery collection, Jeux de Rubans, took place at the Paris Store as part of the Paris Fashion Week Haute Couture Fall/Winter 2018/2019.
"On Thursday, July 5, 2018, ahead of the launch in Japan, we have presented Jeux de Rubans, a new collection of high jewellery portraying the timeless motif of ribbons with a touch of luxurious whimsy, at Paris Store in Place Vendome. The store was lavishly decorated for this occasion to showcase dazzling new creations by the only high jewellery brand from Asia," said Mikimo in a statement.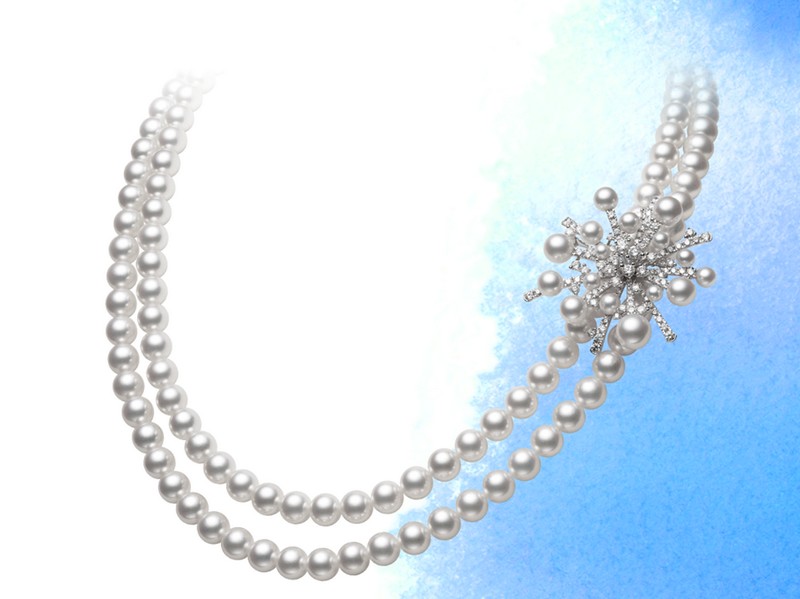 Mikimoto is also showcasing Splash – a concept created by Mikimoto designers around the world cherishing water and its importance on this planet. Every design captures the dynamic moment in nature where droplets of water burst with energy and life.
MIKIMOTO Announces Equestrian Champion, KAREN POLLE, as Brand Ambassador
At the end of June, MIKIMOTO announced its official sponsorship of 25-year-old equestrian champion Karen Polle. Born in Tokyo, raised in New York City and riding since seven, Karen has gained international recognition. As brand ambassador, she and her horse, With Wings, will compete in custom, one-of-a-kind MIKIMOTO riding gear and jewellery. This sponsorship is on the heels of MIKIMOTO's "Explore the Original:Pearls of Wisdom" campaign, which examines and explores several trailblazing women to empower and motivate other women to find strength and beauty in their own originality. The film series featured these women of all ages, across all fields, demonstrating there is no limit or set of rules when it comes to forging a new path –and that is what Karen has done. A Yale graduate, she established herself as a force to be reckoned with in the most prestigious shows, including the Rolex Grand Prix at Versailles, Hampton Classic Grand Prix, and CIBCCup at Spruce Meadows. She further manages her own horses to better understand and keep them performing at their best, and improve her skill as a rider.