The ultimate executive accessory for busy chauffeur-driven business people.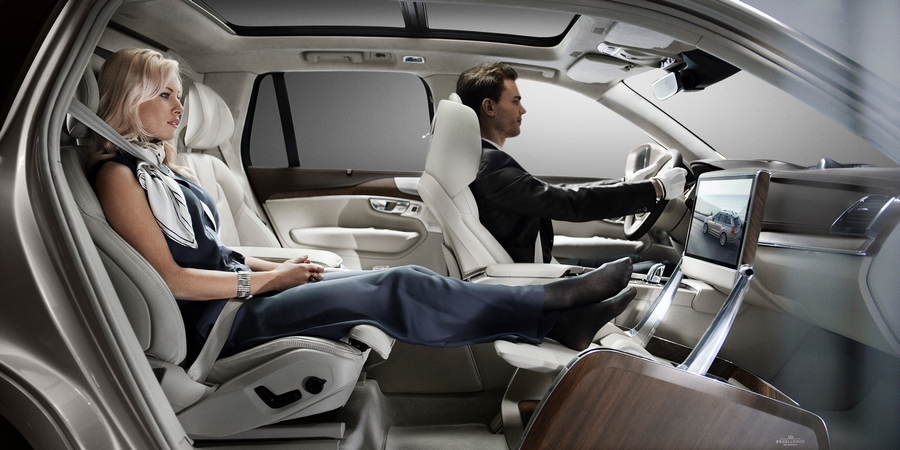 A new accessory presented by Volvo at 2015 Shanghai Motor Show aims to take executive in-car luxury to another level. Labelled the Volvo Lounge Console, the ultimate executive accessory replaces the front passenger seat, providing a wealth of functions and amenities. The removal of the front passenger seat allows for full forward vision creating a uniquely spacious environment.
Below the cushioned leg rest is an additional area for shoes, for example. Volvo Cars' designers have provided a large work table which opens to reveal an illuminated vanity mirror, including a storage tray for jewelry and personal accessories or make-up. The table rotates 90 degrees and simultaneously powers forward to display a 17" media screen for a full in-car theater experience. For added security Volvo Cars has included a lockable storage box.
"We started this work by looking at the executive lifestyle. With our progressive approach to premium design and functionality we analyzed the needs and perspective of the chauffeur driven executive, designing the car around him or her in the spirit of our brand's aim," said Thomas Ingenlath, Senior Vice President Design at Volvo Car Group.
"A key element in our thinking was how to make the available interior space work for the occupants in an optimal and luxurious fashion. Removing the passenger seat enabled us to create an open space that dramatically changes the dynamics of the interior and led to a firework of ideas and new possibilities."
"People who are on the move and have a hectic lifestyle going from event to event or meeting to meeting need some space, some luxury time, and the opportunity to relax and refresh themselves for the next engagement. This is ultimately what the Lounge Console is designed to facilitate," concluded Thomas Ingenlath.