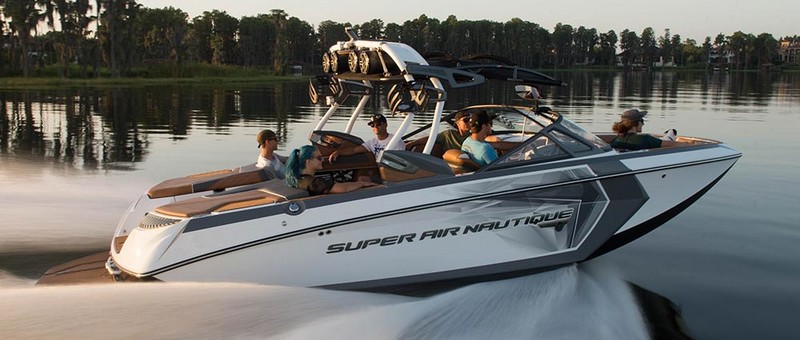 Nautique's flagship G-series boats have been completely redesigned and equipped with industry-changing technology. Considered to be one of the world's best wakeboard and wakesurf boats, the all-new Super Air Nautique G23 and G25 are becoming the most advanced boats the company ever created.
The next evolution of the G-Series features groundbreaking advancements that include a new hull and interior design, Nautique LINC Touch, the new Nautique Helm Command controller, and an optimized Nautique Surf System along with the all-new Nautique Surf Select; a remote wave customization system controlled from behind the boat by the surfer. Nautique has also teamed up with JL audio to deliver a new level of sound with Nautique exclusive WaveFront speaker technology.
The M-Series Elite package comes standard on the Super Air Nautique G23 featuring 6 JL M-Series speakers and a 10" subwoofer powered by an 8-channel amplifier.
"The new Super Air Nautique G23 and G25 will continue to push the boundaries of wake-sports and deliver an experience that you will not find with any other boat in the world," stated Nautique President, Greg Meloon.
For 2016, the Super Air Nautique G23 delivers more performance in every category from an all-new hull design to new engine options and the latest in technology. The original G23 redefined progression in both wakeboarding and wakesurfing and this next generation will continue to accelerate us to new possibilities on the water.
Nautique has integrated the Nautique Surf System (NSS) with WAVEPLATE technology into the new hull design to work as one, delivering an unreal surf wave like never before. The world's most customizable surf system has been fine-tuned to perfection for the 2016 G23 and G25 with 3x faster deployment for quick effortless transfers and the ability to shape the most progressive wave on the water exactly the way you want it.
Using the WAVEPLATE technology, the NSS allows surfers the ability to create a wave on either side of the boat instantly without the need to offload ballast or people. When deployed, the WAVEPLATE extends outward and down from the transom intercepting and redirecting the flow of water to clean up the opposite wake and form a surf wave like no other boat. This not only gives you the ability to form a wave on either side instantly, but also allows for wave customization with variable intensity settings that adjust wave steepness and shape by controlling exactly how much the plate is engaged.
During the 2015 International Boat Builder's Exhibition and Conference (IBEX) trade show, the National Marine Manufacturers Association (NMMA) recognized Nautique for the tenth consecutive year of achieving excellence in customer satisfaction in the Inboard Watersports Boat category.
Nautique achieved and maintained an independently-measured standard of excellence of 90 percent or higher in customer satisfaction over the past year, based on information provided by customers purchasing a new boat during the period between April 1, 2014 and March 31, 2015.