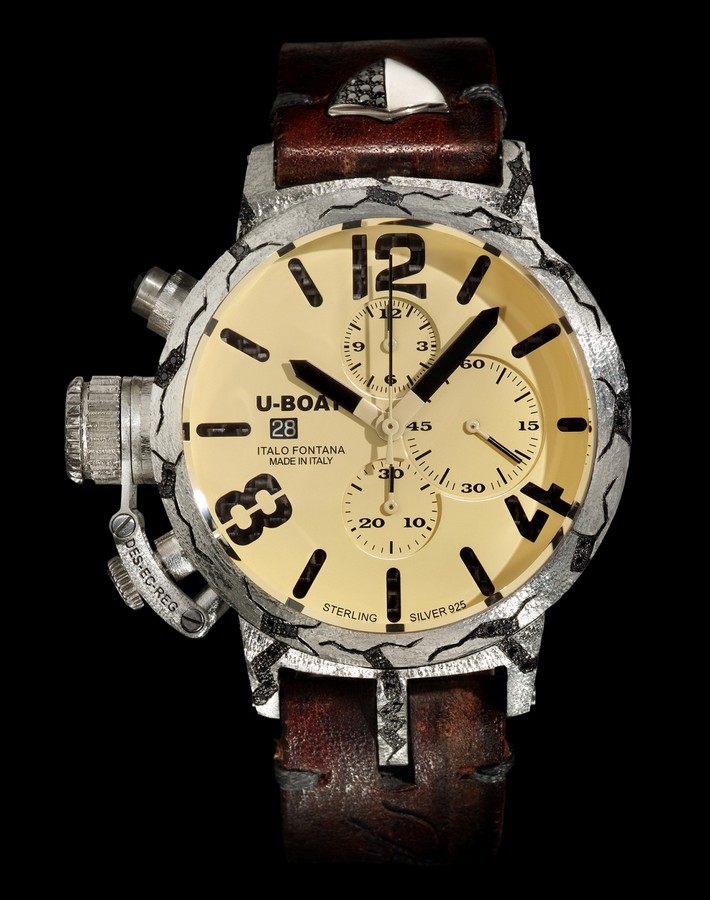 With unique forms of watchmaking, U-Boat manufacture satisfies lovers of unusual timepieces with another great example of design purity meets precious stones. The timepiece innovator is not influenced by the market trends. At last year's Baselworld, U-Boat debuted FLIGHTDECK 925 ELEMENTIUM. The watch reminiscent of the altimeter devices that were used in the 1920's aircraft, was transformed into a jewelry masterpiece.
At Baselworld 2014, U-Boat unveiled another successful metamorphosis: the PHOENIX classico chrono, crafted in 925 sterling silver and featuring drilling fissures into the case.
"A great example of design purity with a strong timeless and recognizable identity, thatevolves into a fine jewelry watch," Italo Fontana, the Creator of U‐BOAT, a
The sterling silver case, recrafted by hand using traditional artisanal techniques, received martellée finishing, and then was partially drilled, in order to create small cracks in the sterling silver 925 material.
Furthermore, all the small cracks have been patiently filled by Italian craftsmen ith 180 black diamonds.The Italian handmade strap boasts exclusive symbols in silver and precious stones crafted into it.
"This 48 case along with impressive dial, sapphire glass and strap turns this classic watch into abrand new jewelry masterpiece with full U-BOAT identity," added Fontana.