Mohammed Bin Rashid Al Maktoum City – District One.
---
This article titled "The tourists shopping in Harrods for a villa in Dubai" was written by Hilary Osborne, for theguardian.com on Thursday 13th August 2015 09.16 UTC
For most tourists in London a trip to Harrods probably means a souvenir tea towel or a branded jar of jam, but for members of the jet-set it could result in the purchase of a luxury villa in Dubai.
The city has become such a popular holiday destination among the world's wealthy that the developers behind multimillion pound properties in an area known as "the Knightsbridge of Dubai" are using the West End store's estate agency to market them, catching the rich while they're on their summer break.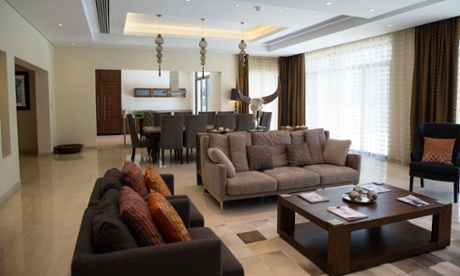 The mansions, which cost between £8.5m and £15m, were launched at an invitation-only cocktail party for 250 clients of Harrods Estates on Friday night at the Dorchester. The properties are being advertised in the shop, a favourite with overseas visitors.
"Most of the clients who will buy are here," said Shirley Humphrey, director at Harrods Estates. "It is so hot in the Middle East at this time of year that many people spend their summer in London."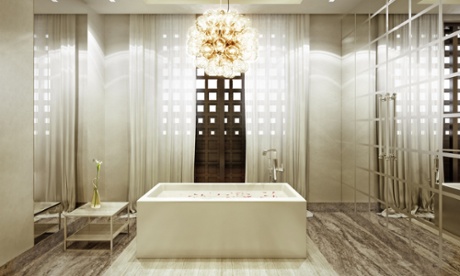 Upmarket letting agent EJ Harris claims that up to £100m will be spent on short-let serviced apartments in London over the next four weeks by wealthy visitors.
The agent said every year from June it was "flooded" with telephone calls and countless emails from clients from the Middle East looking for luxury homes to rent for August and early September.
Clients from the Gulf states typically wanted a three to six-bedroom serviced apartment, at least 1,500 sq ft in size, and would pay £10,000 a week or more to let one.
Within the first few days, some of the properties marketed by Harrods Estates had already been sold. Although described by the developers as beachfront mansions, they are actually in Mohammed bin Rashid Al Maktoum City – an area close to to the centre of the UAE state.
"We're likening it to the Knightsbridge of Dubai because of the location," Humphrey said. "It's about 2km away from the centre and where it is all at."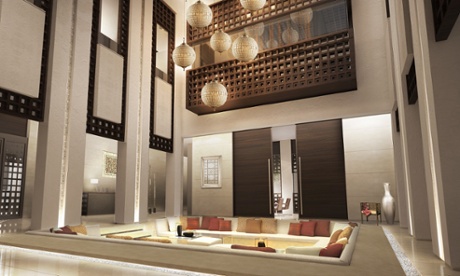 The website for the development – which is on target to be completed by 2020 – promises "nothing short of lavish living". It says: "Each home is meticulously crafted with the highest quality finishing and raw material from across the world to ensure we deliver your dream home."
The mansions range from 19,000 to 34,000 sq ft and incorporate as standard a basement, lift, underground parking, cinema and games room.
guardian.co.uk © Guardian News & Media Limited 2010
Published via the Guardian News Feed plugin for WordPress.