Italian brand luxury hotel opens in Suzhou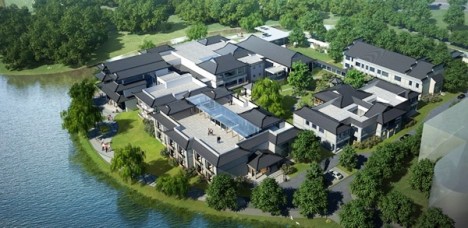 Since 1991 Tonino Lamborghini has been inaugurated several restaurants and coffee bars branded Tonino Lamborghini: in just few years the Group has reached the strategic plan to enter in new growing markets, such as the Middle East, and China's hospitality market. After opening in 2006 the first four-star business boutique property in Collecchio, Parma, Lamborghini is bringing a luxury boutique hotel to China.
Tonino Lamborghini Boutique Hotel Suzhou located near Jinji Lake in Suzhou Industrial Park, is the first high-end luxury boutique hotel of Italian style and Chinese architectural style. A very strange mixture. The hotel offers 92 rooms with lake view, French restaurant, spa, gym, indoor swimming pool, multi-function rooms, bookstore, lobby bar, panoramic waterside and other facilities.
Italian Tonino Lamborghini Group was introduced to China through Join-In Group, the company being the only one authorized to use the Tonino Lamborghini brand worldwide in the field of hotel and hospitality in Asia and the first Chinese wholly-owned hotel management company to purchase the right to use the international hotel management brand.
"I love to see the fusion of Italian luxury and Chinese culture. This will be the perfect combination of a 'Made in Italy' and Eastern philosophy," Tonino Lamborghini said.
We've been working with industrial experts like InterContinental Hotel Group in Suzhou, Crown Plaza Suzhou, our collaborator hotel, is now the best hotel in town."
Nine more Tonino Lamborghini hotels are planned for seven Chinese locations, including Sanya, Zhuhai, Hangzhou, Xuzhou, Huangshi and Kunshan.