The 2015 Goodwood Festival of Speed is hosting a Ferrari California T Tailor Made – A convertible inspired by a passion for horses.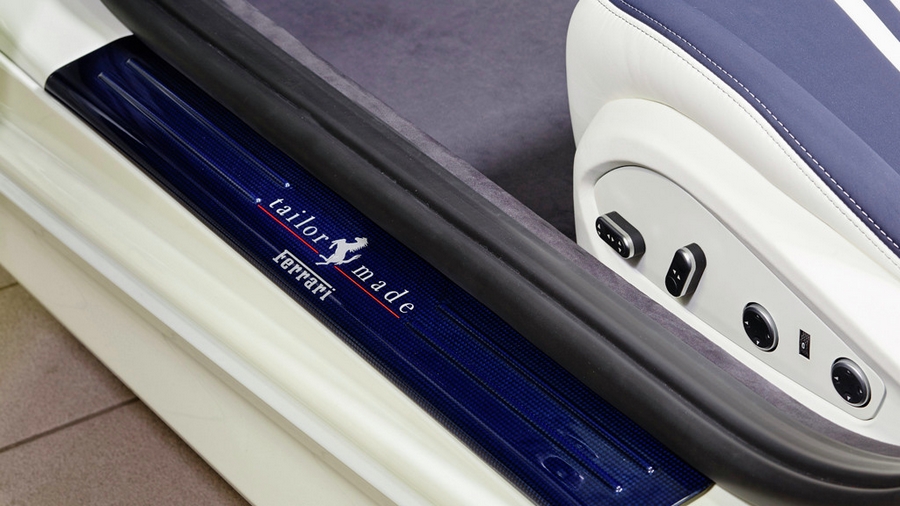 At the 2015 Festival of Speed in Goodwood (UK), Ferrari is showcasing a one-of-a-kind "Tailor Made" California T inspired by the passion and colours of Polo and Horse racing. Ferrari's Tailor-Made is the exclusive personalisation programme from Maranello developed specifically for clients wishing to create a bespoke car.
This highly-personalized right-hand drive Ferrari California T showcases a new high-tech "Mycro Prestige" fabric material that has been specifically made exclusively for Ferrari. Mycro Prestige is a highly resistant material that offers an exceptional level of grip, and, thanks to its unique mixture of fibres which are only 0.7mm thick, it is only one-third the weight of traditional leather. The material is also flameproof, water resistant and at the same time porous and breathable.
"The California T encapsulates the ethos of personalisation, with a Bianco Italia three-layer exterior with a double-asymmetric stripe in Blu Hellen mirrored by a sumptuous Blu Sterling interior with Bianco elements and highlights. The car is finished off with 20" forged wheels which have been painted in Blu Hellen and Argento Nurburgring," explained Ferrari in a statement.
Festival of Speed is taking place place in Goodwood, England, June 25-28.