Montegrappa St Andrews 2012 Collection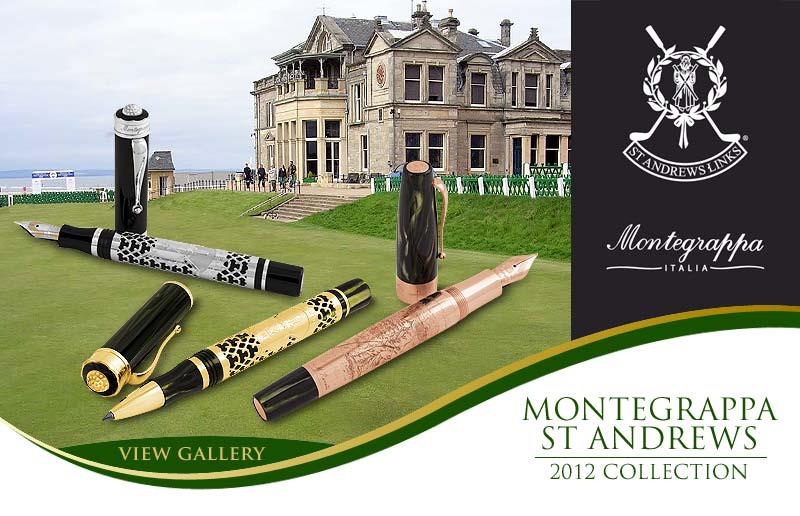 Montegrappa, the oldest Italian manufacturer of fine writing instruments, celebrates St Andrews Links, the greatest landmark in golf, with a limited edition collection. St Andrews Links in the town of St Andrews, Fife, Scotland, is regarded as the "home of golf". It is one of the oldest courses in the world, where the game has been played since the 15th century.
In 2010, the return of The Open Championship to The Old Course at St Andrews Links marked its 150th anniversary. This inspired a new range of luxury writing instruments, produced under the Montegrappa brand.
Fittingly utilising green celluloid and detailed with a golf ball cabochon on the cap, with St Andrews Links' logo engraved on the barrel, the Montegrappa pens signified six centuries of golf played on the Links at St Andrews since approximately 1400 AD. By the 19th century, golf had woven its way into the fabric of the local community, becoming a way of life for local citizens, as players, caddies or ball and club makers. Golf remains the cultural and economic life-blood of St Andrews to this day.
For 2012, a new model will be offered as a fountain pen and roller ball in black resin and sterling silver or in bamboo black celluloid and 18K rose gold. Silver pens will be produced in limited edition of 600 pieces each to denote the number of years golf has been played in St Andrews, while the gold pens are to be issued in an edition of only 7 fountain pens and 7 roller balls, to represent the number of golf courses.
Lastly, a special hand-etched edition called "18th Hole" completes the collection, with only 18 fountain pens and 18 roller balls in rose 18K gold and green celluloid being produced. The barrel shows a golfer in period dress, about to complete a putt, skilfully reproduced from an original photo by Montegrappa's in-house engraver, Mario Rossetti, while the ring surrounding the cap is engraved with golfing images.