Born in Spain but based in London since 1992, Elena Garcia originally trained as a linguist, specialising in Public Services Interpreting. Her interpreter's job has led her to work with many local groups and has made her aware of the problems faced by migrant communities and people in penitentiary institutions. Following her passion for design, in 2001 she decided to re-train as a designer and went back to education, finishing a degree in Surface Textiles for Fashion at the London College of Fashion.
Elena started working on her first collection with friend Ilya Fisher in 2006 The Fisher-Garcia collaboration constituted the basis for the first Elena Garcia collection.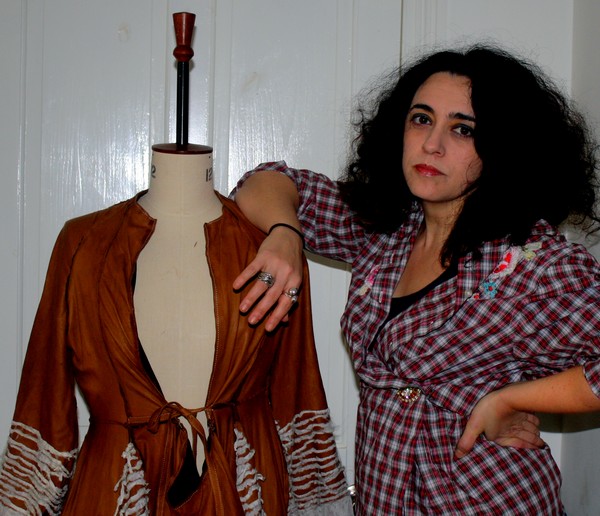 Elena is also an eco-consultant for other brands. She is a member of the Ethical Fashion Forum, The Eco Designers Network and the Conscious Designers Collective.
What means luxury to you in one word?
Care
What are your models or fundamentals in life which you will recommend to others?
Try and stay at peace with yourself as much as possible, be aware of everything around you and inside you. Savour the moment. Stop. Savour the next moment.
What is your criteria for luxury in order of preference ?
Luxury is something rare and special, it could be applied to anything and everything. Anything, concrete or abstract can be considered a luxury by the person who gives it a very high value. For me a luxury in a concept or event can be something that gives me a sense of time and space, a sense of freedom. Luxury in food for me in something made with love and care by someone who understands about flavours using pure ingredients. Luxury in objects allow the owner perceive their beauty and their beauty makes gives them pleasure. What defines something as luxury is the sense of pleasure and appreciation of an object or a situation that it produces in the human mind. I don't have a particular order. It's more of a feeling.
What is your favorite luxury brand(s) and why?
I love PRADA because it has such strong sense of identity, such a great mixture of classic references. But I also love Pippa Small's jewellery, the way she mixes rough textures and precious materials is very inspiring. Love Rick Owen's work, his shapes and treatment of materials and then I love my own label, Elena Garcia, because we put a lot of care and attention to detail to make our customers feel superspecial. This is just in fashion and accessories. I love Ann Valerie Hash and I love Lagerfeld and Gaultier's couture pieces. And McQueens, they are a work of art, very inspiring and transport you to another level of consciousness, that's the importance of luxury, it takes you somewhere else.
Name 5 luxuries which are "indispensable" for you and why:
1) Good health
2) Pure water and food, this is a real luxury not available in many places
3) Being able to give and receive love from others,
4) Time to think and contemplate
5)  Space to think and contemplate
Digital and Luxury. Love or Hate? What means "digital" for you ?
Love. Digital means speed, almost instant availability, it means now.
How will be luxury in the future ?
I think we will appreciate the way things were done in the past even more, as our world becomes more polluted and filled with information at fast speeds, we will consider it a luxury to be able to have time to do nothing, and we will appreciate objets in which their process of creation involves a great deal of time, atention, objects that are not mass produced, objects made with purity in mind. Time is a major factor in the perception of luxury.