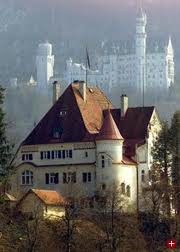 German luxury carmaker Porsche is putting up for sale the Bavarian Schloss Bullachberg castle (located near the Neuschwanstein Castle in Bavaria) and estimated in 2006 to 6 million euros.
Porsche has bought the castle five years ago, hoping to turn the 180,000-square-metre in a luxury hotel. Renovation works have never been started.
Luxury sports car manufacturer has accumulated, however, massive debt. However, in August 2011, Porsche reported for the first half of the year a net profit of 149 million euros.