This electric golf cart comes with a refrigerator, a space for glasses and bottles, and a touch pad.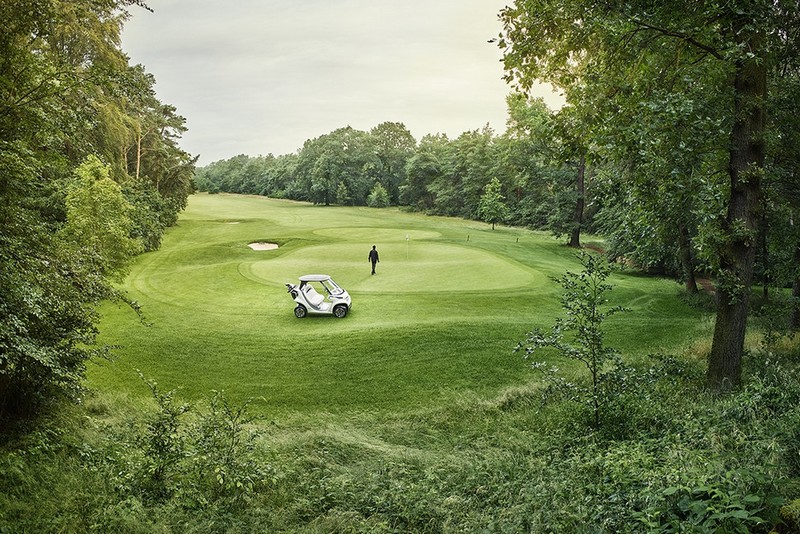 Since the 80s, Mercedes-Benz has been important partner of the international golfing community. Golf has been and remains Mercedes' main international sporting activity. Now, the unmistakable Mercedes-Benz design language is transferred to a premium-class golf cart made in partnership with golf cart manufacturer Garia.
According to Gorden Wagener, Head of Design at Daimler AG, the new Mercedes-Benz Style Edition Garia is "reinventing the world of the golf cart."
"With the Mercedes-Benz Style Edition Garia Golf Car we are offering a high-end golf cart which is absolutely unique and was specifically developed for sporting golfers and the sport they enjoy." Our communication bears the lighthearted slogan "a real sports car," explained Jens Thiemer, Vice President Marketing Mercedes-Benz Cars.
As a showcar, the new Mercedes-Benz Style Edition Garia Golf Car immediately appears distinctly different from conventional golf carts. The driver and passenger have a view through a large, curved windscreen. The carbon-fibre roof is different in colour and form from the base vehicle. With its short front and rear overhangs, it somewhat resembles a sporty baseball cap. The effect is to make the vehicle look low
and more sporty.
The sporty impression is heightened by a small rear spoiler which acts as a golf bag holder while being fully integrated into the overall design as a significant feature. It is so constructed that it can accommodate two golf bags slanted rearwards. This slanted position allows golf clubs to be
conveniently taken out and replaced. A carbon-fibre diffuser rounds off the lower rear end as a lighthearted reference to the vehicle's character as a "real sports car".
There is also a refrigerator under the bench seat, and a stowage tray under the dashboard holds golf balls aligned in a row. Bottle holders on the instrument panel support and on the passenger side provide space for glasses and bottles.
An integrated onboard touchpad with a screen diagonal of 10.1 inches and a high resolution of 2560 x 1600 pixels shows graphically enhanced vehicle information in the smaller, upper area – for example the remaining range, vehicle speed, current power consumption or parking brake status. On the large screen area beneath this, the occupants can display the layout of the golf course and their current position,
or if desired activate an electronic score card.
A hands-free system with Bluetooth connection and hi-fi speakers integrated into the rear roof frame strut ensure that also on the fairway, the occupants are connected and able to listen to music from their smartphone. Those who wish to can take a look at a weather app, or order refreshments for delivery to the green.
The electric motor of the Mercedes-Benz Style Edition Garia Golf Car has an output of three kilowatts, but can also make up to eleven kilowatts available for short periods. This is enough to give the 440- kilogram vehicle with its permissible payload of up to 460 kilograms sporty acceleration, with a governed top speed of 30 km/h with a range of up to 80 kilometres. The charging time for the lithium-ion battery is six hours.