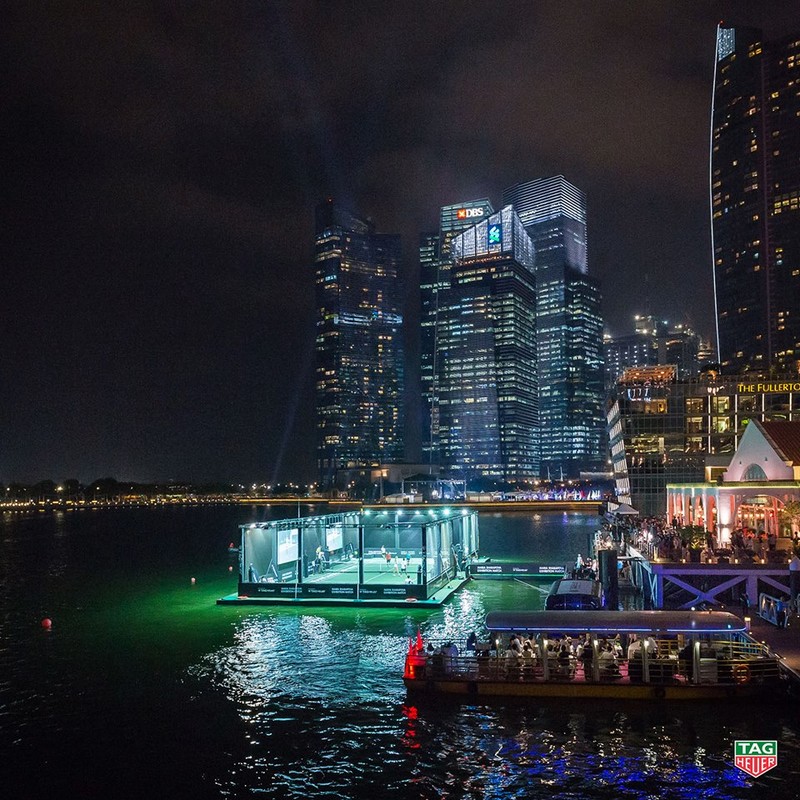 TAG Heuer ambassador Maria Sharapova unveiled Singapore's first floating tennis platform at Clifford Pier. World number three female in tennis arrived on a sport boat to join former world number two Michael Chang, the youngest male player to win a singles Grand Slam title.
"This historic place is where many first generation Singaporeans first set foot. Today, we're adding a footnote to that history by launching Singapore's first floating tennis platform," said Amelia Sillard, Vice President of TAG Heuer Southeast Asia.
Sharapova and Chang were paired with 19-year-old Angeline Devi Devanthiran and 17-year-old Shaheed Alam who both represented Singapore for the first time at the 28th SEA Games in June. There also was a Charity Rally where TAG Heuer donated $100 per rally in the longest rally played.
In addition, the event saw eight-year-old Joshua Wong's wish come true. The young tennis fan suffers from non-Hodgkin lymphoma and TAG Heuer has partnered Make-A-Wish Foundation to realise Joshua's wish to meet a real-life sports star.
Two weeks ago, the Swiss luxury watch manufacture announced that Tom Brady, star quarterback of the New England Patriots, and four time Super Bowl champion, is part of the brand's ambassadors team. TAG Heuer and Tom Brady celebrated the announcement in New York City at the launch event for the Carrera – Heuer 01.
The Carrera – Heuer 01 is the first of a new collection that will feature a new case, construction, design and calibre. The dial side reveals the chronograph controls and an openwork date disc while the case-back includes a red column wheel, and a skeleton chronograph bridge. The piece also features a new generation TAG Heuer case, made from steel for greater shock resistance.
"I am thrilled to be part of the TAG ambassador team. I have always admired the craftsmanship of a luxury timepiece and the new Carrera 1 is no exception. The first nice watch I purchased was a TAG. So, it looks like I've now come full circle with this admired company," declared Tom Brady, quarterback for the New England Patriots.