Alexa Chung is the Face of Longchamp's Spring 2014 Ads.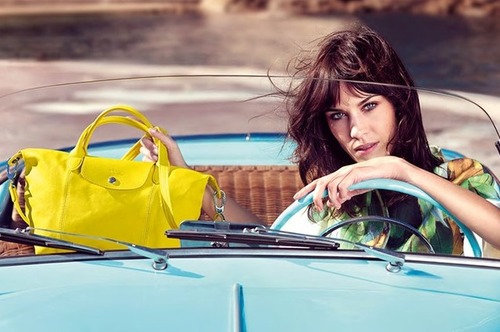 Classic British beauty Alexa Chung and Longchamp cemented a partnership wich sees the model as the new face of the French accessories house. Alexa Chung stars in Longchamp's Spring Summer 2014 and Autumn Winter 2014 campaigns. Alexa Chung follows in the footsteps of ex- Longchamp muses Kate Moss and Coco Rocha.
The French leather goods marks the 20th anniversary with a campaign signed by Max Vadukul and styled by Alexis Roche. In a vintage Fiat convertible Le Pliage bag, Longchamp's best-selling product, is the star on the French Riviera.
"We intend luxury to be part of the everyday life of an active, dynamic, cosmopolitan woman — a woman who loves fashion, but is not a fashion victim," explained Marie-Sabine Leclercq, Head of Global Communications at Longchamp. "Alexa Chung totally represents that vision. She is smart, sparkling, stylish — the ultimate embodiment of the movement and energy that are at the heart of Longchamp."
"For the new Escales collection – which is cheerful, colourful and bursting with energy – we needed a woman who was both chic and modern. Alexa Chung is the woman who embodies it the best. Her enchanting gaze, which is very strong and very present, gives the campaign a lot of personality. She has energy and confidence," added Marie-Sabine Leclercq.
"The whole team fell under her spell," said Leclercq. "She immediately had a real vision and made a very on-point contribution to the looks for the shoot. There was such a synergy and an energy that we all went home delighted with this initial experience with her."