Global reveal of Land Rover's new Discovery Vision Concept car alongside SpaceShipTwo, the world's first commercial spaceship.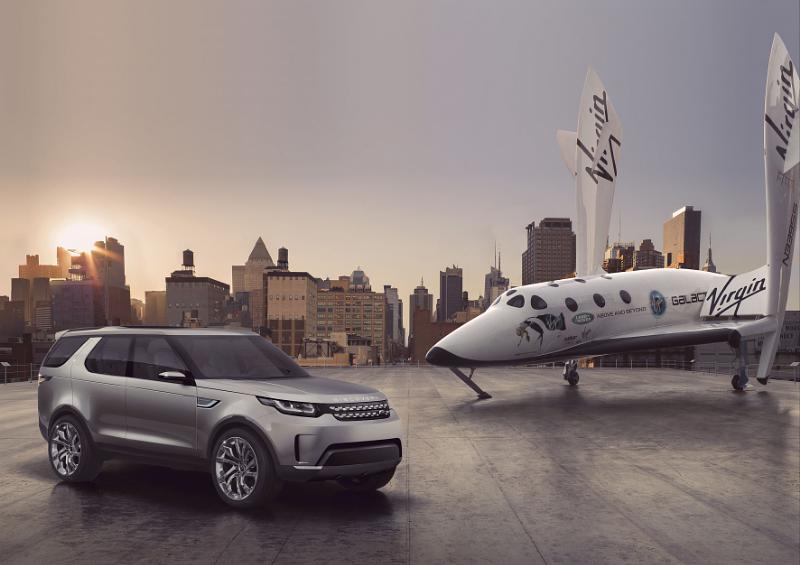 Land Rover and Virgin Galactic want to push the boundaries of travel "for the next generation". The two entities announced a partnership bringing together two world leaders in adventure, innovation and exploration.
The partnership will see Land Rover vehicles become part of daily life for the Virgin Galactic team and for all 'Future Astronauts', the space experience will now begin with Land Rover as they arrive in New Mexico for training, and continue to the moment they drive from the space terminal building to the waiting spaceship. Land Rover will base a fleet of vehicles at the Virgin Galactic test centre in the Mojave Desert, California and at its astounding operational New Mexico
base, Spaceport America.
The exciting announcement was revealed in dramatic fashion on board USS Intrepid, a former aircraft carrier and now a museum dedicated to the exploration of sea, air and space and anchored on the Hudson River. Land Rover's first act as exclusive partner was to bring a unique full-size replica of SpaceShipTwo VSS Enterprise to New York, where it joined the remarkable British Airways Concorde and its namesake Space Shuttle Enterprise upon the Intrepid. Like the Space Shuttle, SpaceShipTwo is the first of a revolutionary fleet of reusable human spacecraft.
Revealed alongside SpaceShipTwo was Land Rover's Discovery Vision Concept car – the ultimate SUV of the future.
The vehicle uses augmented reality technology to display a 'see-through' view of the terrain ahead, making the front of the car 'virtually' invisible from inside the cabin. Gesture Control allows you to open the doors, operate the indicators or turn on the headlamps simply by moving your hand, while Laser Referencing projects visible markings, symbols and imagery onto the ground to aid low speed or tricky manoeuvres.
"This is a marriage of two of Britain's most iconic brands which celebrate shared values, a pioneering spirit and a true sense of adventure. Not only do we both share the same long-term vision to enable mankind to explore, but we also want to develop this partnership to inspire others. From our tens of thousands of employees and customers to schools and colleges, motivating more young people to pursue careers in engineering, science, technology and math – and explore new ways of travelling for future generations," said Phil Popham, Group Marketing Director of Jaguar Land Rover.
"Land Rover's heart beats 'above and beyond' – we are pioneers on land and Virgin Galactic is the pioneer of space. It's a very special match of brands with a shared vision."