20 coupés and 20 roadsters.
The Italian symbol Lamborghini continues to honor the centenary of its founder, Ferruccio Lamborghini, with special commemorative series unveiled at 2016 Monterey Car Week in California.
Centenario Roadsters, the one-off limited edition of 20 roadsters following the introduction of the coupé, are all sold at a starting price of 2 million euros plus tax. A natural successor to its coupé counterpart, the car represents a true illustration of Lamborghini's new, inspirational heights. The body of the Centenario is defined completely in carbon fiber. Shown in Monterey in the special exterior color, called ''Argento Centenario'', clients can specify their Centenario to include any colour and finish, such as exposed carbon fiber from Lamborghini's Ad Personam personalisation programme.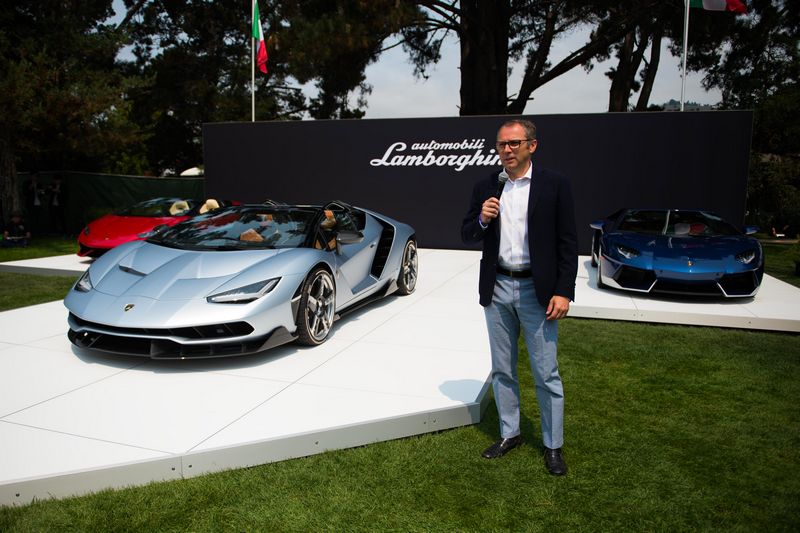 Designers were given the freedom to create an open design that embodies the progressive qualities of Lamborghini's visionary founder and shines in an elegant environment. Equipped with the most powerful engine produced by Lamborghini to date, the Centenario Roadster's elegant exterior is matched with the unmistakable power of Lamborghini's naturally aspirated V12 engine. Excellent power to weight ratio in combination with the optimized aerodynamic design allows to easily reach 350 km/h, delivering superior balance and maximum stability.
"Lamborghini prides itself on the relentless pursuit of experimentation. We are proud to unleash Centenario's further potential in the form of a classic roadster; the perfect harmony between innovation and timeless design. This unique engineering achievement is a befitting tribute to
Lamborghini's extraordinary past and a preview of its brilliant future. Centenario Roadster embraces the cutting edge characteristics of its coupé sibling and embraces the freedom of a true open-top super sports car for a pure drive experience" #stefanodomenicali, Automobili Lamborghini Chief Executive Officer, said.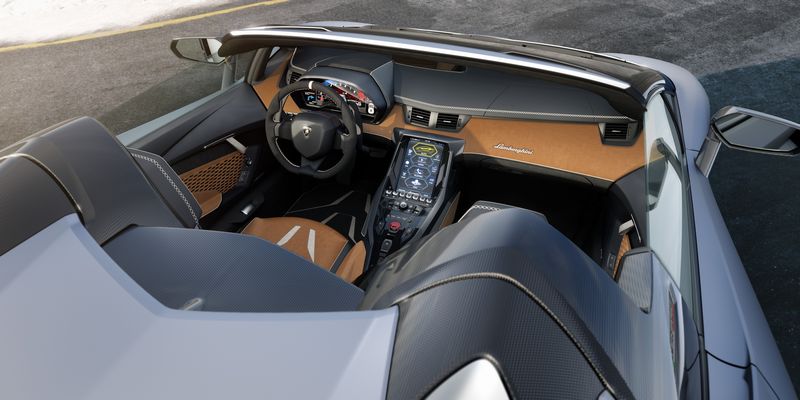 Known for experimenting with new cutting edge colors, designers developed a special silver exterior color, called ''Argento Centenario'', fashioned exclusively for the Centenario Roadster, accentuating its curvaceous profile.
The car's enhanced aerodynamic design includes an extending rear wing providing more downforce at high speeds and is equipped with rear-wheel steering for increased agility and stability. A new fully connected infotainment and innovative touchscreen system includes internet browsing and Apple CarPlay for easy use.
The highly responsive V12 architecture delivers 770 hp (566 kW) with an engine speed regulator raised from 8,350 rpm to 8,600 rpm. Accelerating from 0-100 km/h in just 2.9 seconds the Centenario Roadster's top speed is more than 350 km/h. Braking distance is equally impressive: from 100-0 km/h in just 31 m (102 feet).
Clients can specify their Lamborghini Centenario Roadster to include any color and finish from Lamborghini's Ad Personam personalization program. Just as the Coupé version the Centenario Roadster will be produced as a limited edition of only 20 units to be delivered through 2017. All 40 Centenario models are sold, to collectors and Lamborghini enthusiasts around the world at a starting price of 1.75 million euros for the Coupé and 2 million euros plus tax for the Roadster.