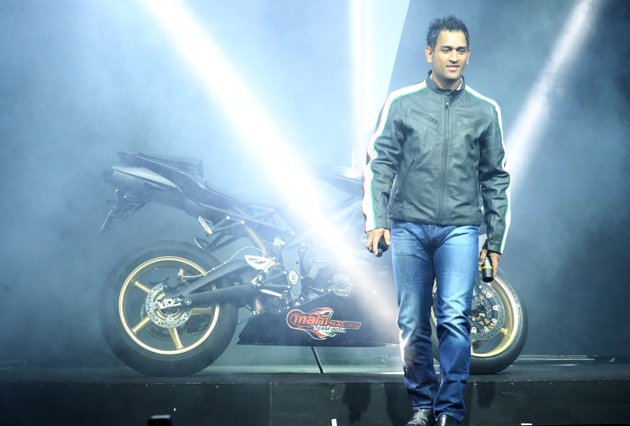 India's cricket captain Mahendra Singh Dhoni, commonly known as M. S. Dhoni, launched his own brand of cologne in Dubai, a line which caters exclusively to men. Personally involved in the creation, formulation and development of the M S Dhoni line, the Indian skipper centered his six fragrances around his lucky number "7". The cricketer named the new fragrances Intense, Power. Action, Connect, Cool and Energy.
In 2009 MS Dhoni topped the list of world's top 10 earning cricketers compiled by Forbes and he has been ranked as 31st richest sportsman in the world according to the Forbes Highest Paid Athletes for the year 2012. M. S. Dhoni is the current captain of the Indian national cricket team and the Chennai Super Kings cricket team.
"I was born on the 7th of July in 1981, my jersey number is seven, and thus number seven is very special for me. I love the number 7," said Dhoni about the inspiration for the new fragrances.
"It is a neutral number, it is neither negative or positive so that means the (fragrance) can reflect you. If you are positive and you work hard then it will all be positive for you," added the star player.
"You can't miss the helicopter shot because that is what people associate me with but I think most of the fragrances would be a straight drive or a cover drive, shots like those, orthodox, but one of them would be the helicopter shot," said the cricket captain when asked if the names of his six fragrances were cricket shots.
"It's not my favourite but I like my "Energy" perfume and I think it's a bit special, so that would be the helicopter shot," he said.
Dhoni's total earnings are estimated to be USD 26.5 million according to Forbes. Thus he has became the richest Indian sportsman surpassing Sachin Tendulkar. The TIME magazine added him in its "Time 100" list of 100 most influential people of 2011.
Dubai-based Beauty Contact is in charge with the global launch of MS Dhoni's perfume line. Beauty Contact's portfolio of top celebrity fragrance brands include perfumes for Paris Hilton, Jessica Simpson, Maria Sharapova, Perry Ellis, Alfred Sung, and Bob Mackie.
http://www.youtube.com/watch?v=tyAfmliEsuo