Holiday Wardrobe Blogger Challenge won by Sugar and Spice blogger Emily Knightley
The winner for the best holiday wardrobe.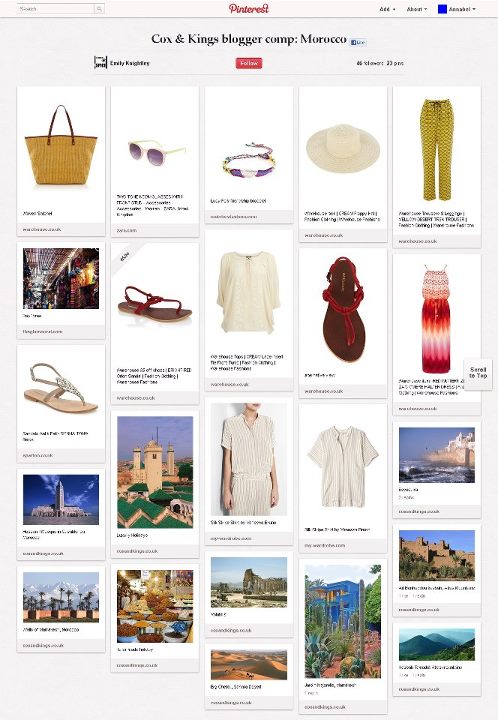 To celebrate its collection of private tailor-made holidays, Cox & Kings, the world's longest established luxury travel company (1758), have challenged six bloggers to pick a destination and choose 10 fashion items that best suit this destination.
Bloggers were challenged to select a luxury destination offered by Cox & Kings and create their perfect holiday wardrobe. Taking inspiration from selected locations including Italy, Vietnam, Morocco, South Africa and Jordan, bloggers chose 10 fashion items they wouldn't leave home without. The items were then pinned on Pinterest to highlight their suitability for the destination selected. The bloggers involved in the challenge were: Rachel Phipps, Wolf Whistle, Little Bird Fashion, Lela London, Sugar and Spice, The Hifashion Site.
The fashion bloggers' readers were kept updated with fashion posts on key pieces and trends, ranging from the classic cut Michael Kores maxi dress perfect for 'la dolce vita' in Italy, to Warehouse desert trek trousers for cool casual in Morocco.
Guest judge, Reem Kanji, founder of leading fashion blog Five Five Fabulous and columnist for The Huffington Post, had the tough task of selecting the winner. Reem chose Sugar and Spice blogger Emily Knightley as winner for the best holiday wardrobe. Emily, who selected Morocco as her destination, displayed a great range of items on Pinterest that reflected Moroccan tradition as well as high fashion.
"The winner showed great consideration of the destination environment and even made sure her wardrobe was appropriate for the country's traditions and dress code. Keeping that in mind, she put together a great selection of pieces that would work independently as well as styled together. The on-trend print pieces are a great reflection of the textiles and colour Morocco is famous for," said Reem Kanji.