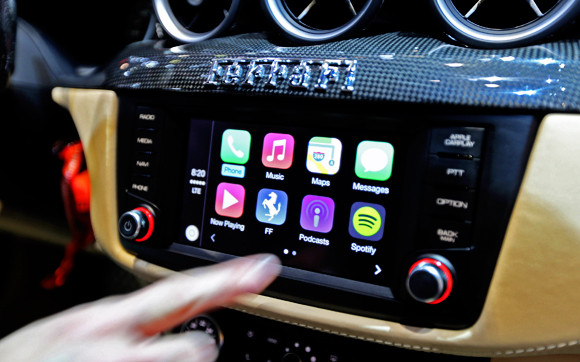 The first FF equipped with the Apple CarPlay system has gone to an Italian client. Deliveries of the Ferraris sporting the innovative integrated Apple technology commenced over the last few days and the cars are now arriving at their final destinations and will hit the road all over the world. In Europe, they are bound for Germany, Great Britain, France and Switzerland while others have been dispatched to the United States and Japan.
Apple CarPlay is the smarter, safer and fun way to use iPhone in your car. An incredibly intuitive system, CarPlay allows you to make calls, use maps, listen to music and access
messages with a single word or touch of the central display.
Apple CarPlayis also available for the Ferrari California T, the mid-front-engined V8 Turbo unveiled at the last Geneva Motor Show.
Once iPhone is connected to a vehicle with CarPlay integration, Siri helps you easily access your contacts, make calls, return missed calls or listen to voicemails. When incoming messages or notifications arrive, Siri provides an eyes-free experience by responding to requests through voice commands, by reading drivers' messages and letting them dictate responses or simply make a call.
CarPlay makes driving directions more intuitive by working with Maps to anticipate destinations based on recent trips via contacts, emails or texts, and provides routing instructions, traffic conditions and ETA. You can also simply ask Siri and receive spoken turn-by-turn directions, along with Maps, which will appear on your car's built-in display.
CarPlay gives drivers access to all of their music, podcasts, audiobooks and iTunes Radio℠ with easy navigation through listening choices from the car's built-in controls or simply by asking Siri to pull up what you'd like to hear. CarPlay also supports select third-party audio apps including Spotify and iHeartRadio, so you can listen to your favorite radio services or sports broadcast apps while driving.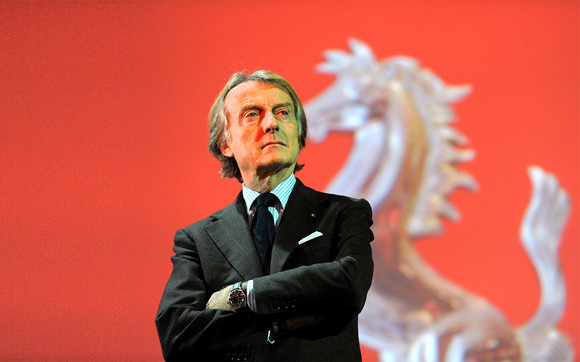 The Apple CarPlay system powered by Ferrari came with the announcement that Luca Cordero di Montezemolo, is leaving Ferrari after "23 unforgettable years."
"This is the end of an era and so I have decided to leave my position as Chairman after almost 23 marvellous and unforgettable years in addition to those spent at Enzo Ferrari's side in the 1970s." said Montezemolo in a statement.