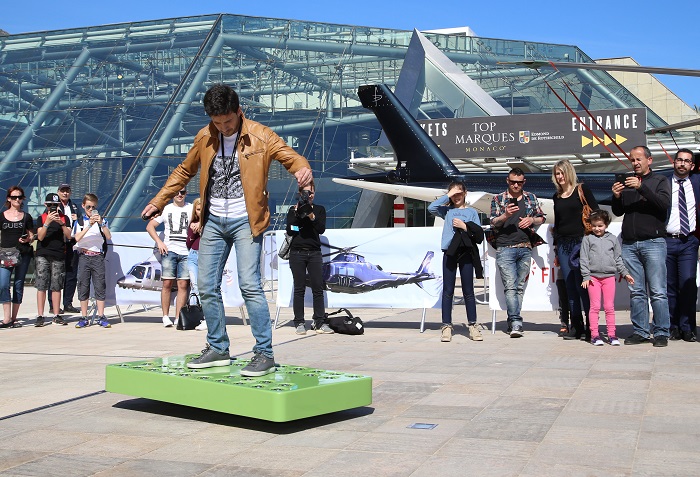 2016 Top Marques Monaco opened on 14th April to a record breaking number of visitors who came to see more than 200 exhibitors showcasing every facet of a luxury lifestyle from world premier supercars to vintage watches, bespoke jewellery and art.
The 13th edition of Top Marques was inaugurated by Monaco's Minister of State Serge Telle, who witnessed the first ever public flight of the ArcaBoard, a
flying hoverboard which can leviate up to 25 cm. The ArcaBoard, the brainchild of engineers in New Mexico, flew in front of visitors and press on the Grimaldi Forum's Esplanade.
Telle, who was accompanied at the official inauguration by the BBC's Top Gear presenter Eddie Jordan, also visited the stand of the Martin Jetpack, a personal jetpack named as one of Time magazine's Top 50 inventions.
In the Ravel exhibition hall, visitors were treated to an extraordinary homage to James Bond, where there are no less than five cars from the latest 007 film
Spectre: Aston Martin DB10 driven by Daniel Craig; the Jaguar C-X75 which Spectre's villain Hinx drove; the Range Rover Sport SVR, Land Rover "Big foot "Defender and Aston Martin DB5.
Other highlights in the supercar hall were the Icona Vulcano, the world's first ever supercar made entirely of titanium, the Donkervort D8 GTO, one of the
fastest street-legal cars on the road and the Arrow Apollo, the newest supercar on the block with enough power to accelerate from 0-60 in just 2.9 seconds and reach a top speed of 224 mph.