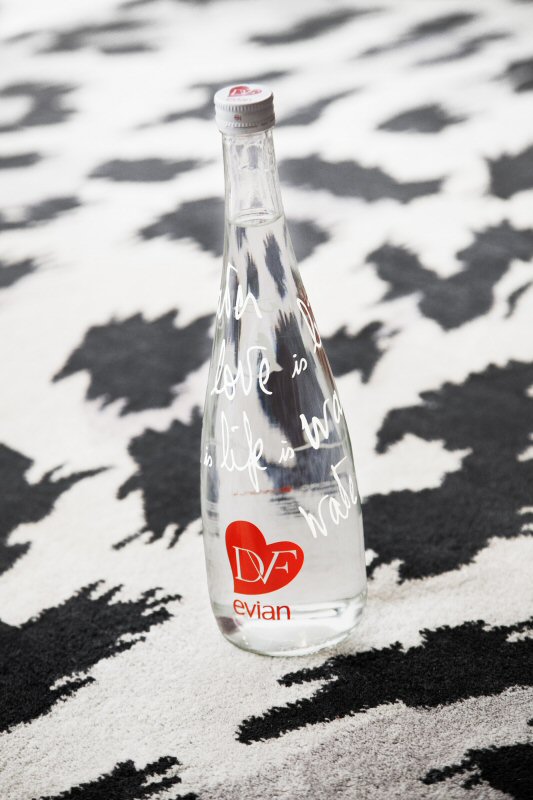 evian (bottled since 1826), the world's #1 brand of premium natural mineral water, released the newest addition to its limited edition bottle collection by iconic American designer Diane von Furstenberg.
Diane von Furstenberg is the first American and female designer to be appointed for this bottle design collaboration. evian's limited edition bottle by Diane von Furstenberg is printed in organic ink and features the designer's ubiquitous heart DVF logo in a special hue of red, created exclusively for the evian collaboration.
The bottle, composed of 100 per cent recyclable packaging, is sealed with evian's new screw cap design."I am so excited about this collaboration because I have always loved evian and I think drinking water is one of the most important things we can do to love ourselves and love is life! To me, it is all about living life to the fullest and I am so proud to work with evian® to spread such an important message," said Diane Von Furstenberg.
"We are thrilled to launch our 2013 limited edition bottle, designed by the iconic Diane von Furstenberg. Not only is she a globally-recognized pioneer in the fashion industry, but her youthful mindset and inspirational way of life parallel the concepts and values that evian firmly believes in," said Barak Orenstein, Senior Brand Manager, evian Canada.
This 750mL bottle will be available at select Canadian restaurants and retailers in time for the holidays.Since 2008, evian has collaborated with the world's most esteemed designers including Issey Miyake, Paul Smith, Jean Paul Gaultier, Christian Lacroix and Courrèges. To date, 10 million limited edition bottles have been sold and distributed to over 150 countries worldwide.
Bottled at the source in a state of the art facility, evian comes from the Cachat Spring located on the Southern shore of Lake Geneva, in the town of Evian-les-Bains.
Today, evian is a brand in Danone's giant portfolio.