---
This article titled "Designs of the Year: chairs that make you fidget and a piano from the future" was written by Oliver Wainwright, for theguardian.com on Wednesday 23rd April 2014 10.30 UTC
From folding safety helmets to sentient smoke alarms, the Design Museum's Designs of the Year exhibition showcases some of the most cunning innovations in transport and fashion, technology and industrial design. Here are the seven category winners announced today, which will compete for the overall crown of Design of the Year, to be announced at the end of June.
Like a table cloth caught in the wind, this vast cultural centre ripples across the skyline of Baku, standing as a billowing monument to the country's former president – who presided over a tyrannical regime of human rights abuses, vote fixing and police intimidation of political opposition. The kind of client, then, to which Zaha Hadid is no stranger.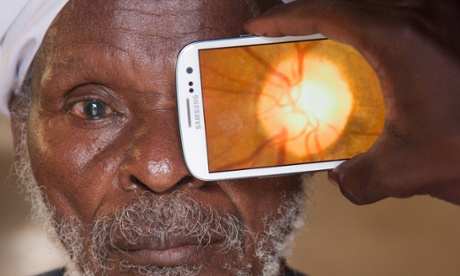 If you thought the camera on your smartphone was invented for taking selfies and snapping sunsets, think again. In the hands of Dr Andrew Bastawrous, Stewart Jordan, Dr Mario Giardini and Dr Iain Livingstone, designers of the Peek app, any camera phone can be transformed into a portable eye examination kit, bringing eye care to the remotest of settings. In a strong year for the digital category, Peek stood out as a potentially revolutionary application, allowing health workers to do high quality retinal and cataract imaging in the field with minimal training.
FASHION – Prada S/S14
Strappy sandals encrusted with a goodly number of jewels and paired with knee-high rugby socks is what we'll be wearing this coming season, if Muccia Prada has her way. That, along with a strange hybrid of marching-band jackets and pop-art prints, all bound together with a few more layers of bejewelled foliage and spangly edging. "I want to inspire women to struggle," said Prada, in an apparent attempt to recall her feminist roots. "By next summer we'll wonder what we ever wore before," trilled a breathless Vogue. Really?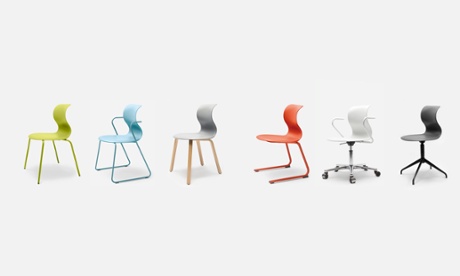 A school chair actively designed to encourage fidgeting, you say? It might sound like every teacher's nightmare, but the Pro Chair is sculpted to stimulate what its German designer, Konstantin Grcic, calls "dynamic sitting". Given that sitting still is the route to an early death, Grcic's design promotes movement, with a round stool-like seat and a slim S-shaped backrest allowing for constant change of position, and relieving the strain on the lower back and pelvis. We can now let school children wriggle away to their heart's content, safe in the knowledge that it's good for them.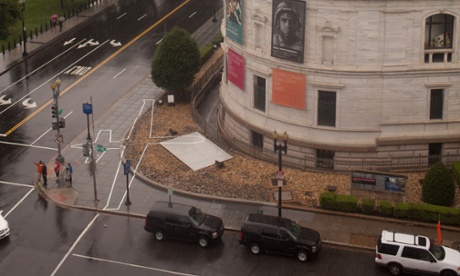 Marking out the ghostly outlines of unmanned aerial vehicles on street corners, like the flattened outlines of murder victims at a crime scene, James Bridle's Drone Shadows project makes the invisible world of military surveillance and targeted killing visible for all to see. "The attitude that [drones] represent," writes Bridle, "of technology used for obscuration and violence; of the obfuscation of morality and culpability; of the illusion of omniscience and omnipotence; of the lesser value of other peoples lives; of, frankly, endless war – should concern us all."
With its continuous surface of smooth black ribs, the Seaboard is like some distant future descendant of the piano, producing unearthly cosmic sounds as you tickle its rubbery protrusions. Designed by Roland Lamb and Hong-Yeul Eom, the instrument allows real-time, tactile control of the sound through 3D hand gestures, incorporating everything from "natural vibrato" to "intuitive pitch bend", while its "integrated pitch ribbons" will certainly give Enya a run for her money in the ambient music stakes.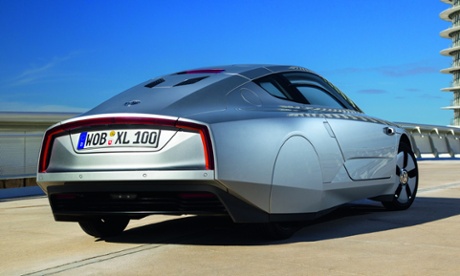 With its low-slung rear wheel arch giving it the look of an old Citroën, the tear-drop shaped XL1 is claimed to be "the world's most efficient liquid-fuelled production car," using just 0.9 litres per 100 km, equivalent to 313 miles per gallon. The retro-futuristic design has scissor-opening wing doors and does away with wing mirrors, which are replaced by small cameras, or eMirrors. Sadly it doesn't yet convert into a speed boat or perform time travel, but it can reach 100kph in 12.7 seconds.
guardian.co.uk © Guardian News & Media Limited 2010
Published via the Guardian News Feed plugin for WordPress.