Cabestan launches the Trapeziun at Geneva Time Exhibition 2012
Cabestan Trapezium –  A new Lesson in Geometry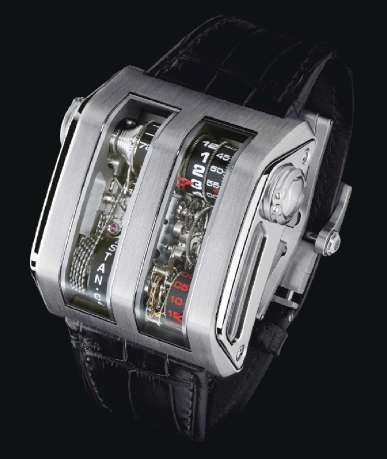 Recognised as one of the most renowned master watchmakers in the world, architect of the legendary Gyrotourbillon, Eric Coudray is also the soul of Cabestan, its designer and engineer. For his latest masterpiece, he created Trapezium and gave it a heart with amazing precision. Cabestan Trapezium is a timepiece that defies the greatest laws of mathematics.
Engineered by Eric Coudray, the movement of the is one of the most precise timekeeping mechanisms in the world. The mechanism incorporates a chain and fusee that automatically corrects for the loss of torque in the mainspring and delivers a constant force to the tourbillon. But even the tourbillon is special. To provide enhanced compensation for the disturbing effects of the Earth's gravity on accuracy, Cabestan Trapezium's tourbillon is mounted vertically. The result is a phenomenally robust movement that stretches the limits of micro-mechanics.
Based in Geneva, Cabestan is a unique actor in the universe of highly exclusive watchmakers. The brand is famous for the Winch Tourbillon Vertical with its retrofuturistic design and revolutionary movement of extreme precision. In 2010, Cabestan collaborated with another tenor of the luxury industry, Ferrari, to create the Scuderia Ferrari One by Cabestan to honour the mythical automobile brand and its 60 years of
Formula One racing.
These models and the new Cabestan Trapezium (priced at CHF 240,000) will be present at the Geneva Time Exhibition from January 15-20, 2012 in the Espace Hippomène in Geneva.
As for its design, the angles of Cabestan Trapezium's structure accentuate its subtle tilt and bring a layered elegance to the creation. The decorative side panels and transparent back also provide astonishing 360° views of the mechanism inside.
In keeping with its ultra-exclusive heritage, Cabestan Trapezium adapts itself to the tastes of its owner through a creative fusion of materials, finishings and tones. Each piece can be personalized for a truly unique experience. The ultimate luxury.
[adsenseyu1]