Bentley Mulliner Picnic Hamper takes exquisite luxury to places it has never been seen before.
As you explore new and unexpected places in the new Bentayga, so will you explore new and unexpected realms of luxury, says Bentley. Take, for example, The Mulliner Tourbillon clock by Breitling matched to the interior of "The world's most luxurious SUV."
Another high-end addition to Bentayga is the Linley Hamper by Mulliner furnished with the finest examples of luxury crockery, cutlery, and glassware. The picnic hamper, designed in collaboration with British designer Linley, has been created to take the luxury picnic to places it has never been seen before. Secured into the car by using a custom-engineered tray docking mechanism, all three compartments of the hamper can be pulled forward to the edge of the tailgate, for effortless access and removal from the luxury vehicle. The hamper can be utilised with or without Bentayga's Event Seat option.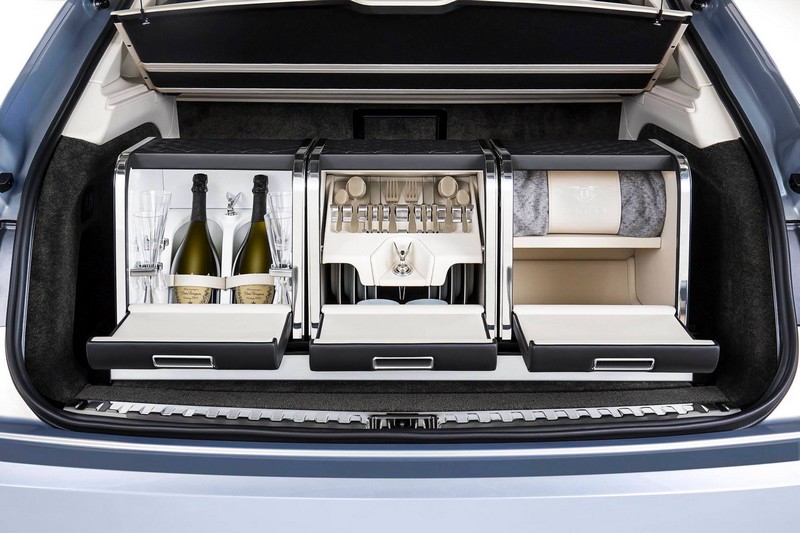 "Whether on snow-capped mountains, in a city-centre park or at the polo, Bentayga and Mulliner's hamper means that wherever you go, you take the extraordinary Bentley lifestyle with you. The Linley Hamper by Mulliner embraces the essence of Bentley's luxury credentials – exquisite craftsmanship with incredible attention to detail," stated Bentley.
One of the compartments is equipped with the finest crockery and cutlery. Plates, cups and saucers are sourced from the Sublime Collection of Havilland, the renowned French porcelain maker. Four sets of award-winning Alta Robbe and Berking silver cutlery are joined by a Somerset Laguiole cheese knife from Linley. The chrome-finished Bentley Flying B bottle stopper completes the set.
Four Bentley crystal champagne flutes, designed by David Redman of London, stand alongside two bottles of champagne, both chilled to 8°C. The third hamper compartment, with space to stow additional items, contains a Mulliner cashmere picnic rug.