Blue is the warmest colour. The spectacular 'Sky Blue Diamond', a Fancy Vivid blue diamond ring weighing 8.01 carats, with a stunning mount by Cartier, will be sold at Sotheby's Geneva on 16 November.

Within the past two years alone, Sotheby's auction house has twice set a new world record auction price for a blue diamond, most recently with the only diamond or gemstone in auction history to have exceeded $4 million per carat, the Blue Moon of Josephine (sold for $48.5 million ($4,028,941 per carat) in November 2015).
The centrepiece of Sotheby's November auction of Magnificent Jewels and Noble Jewels in Geneva will be an outstanding and extremely rare Fancy Vivid Blue diamond ring by Cartier. Weighing 8.01 carats, this mesmerising stone has been named 'The Sky Blue Diamond', emphasising its highly sought-after hue. This most majestic of gems will be offered on 16 November with a pre-sale estimate of $ 15 – 25 million.
Describing the diamond, David Bennett, Worldwide Chairman of Sotheby's International Jewellery Division, said, "The Sky Blue Diamond is of a wonderfully clear celestial blue, presented in an extremely elegant square emerald cut – in my view, the most flattering of all the cuts for a coloured diamond. This important gem will, I am sure, captivate all collectors of exceptional gemstones."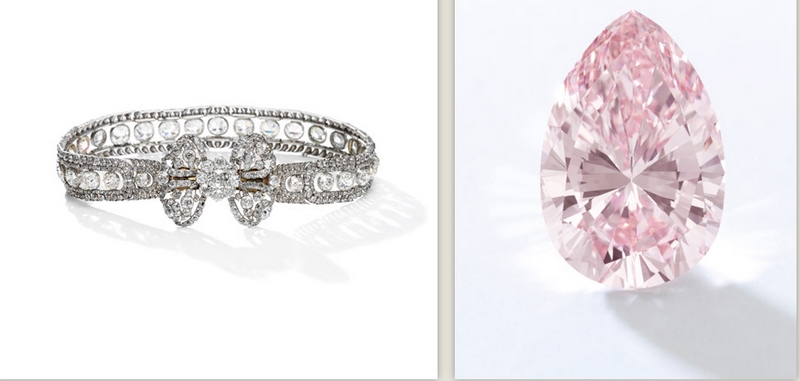 'The Sky Blue Diamond' has been graded Fancy Vivid Blue by the Gemological Institute of America (GIA) – the highest possible colour grading, awarded to no more than 1% of blue diamonds submitted to the GIA. It was also found to have excellent polish and to be of Type IIb, a rare category which represents less than 0.5 % of all diamonds.
How are fancy colored diamonds graded? How to buy fancy cut diamonds? How to make smart decisions and how to avoid expensive mistakes? When buying a diamond there are a lot of unanswered questions. Go behind the scenes to this niche market and make sure you always get a fair deal for your diamond purchase.
"Choosing a diamond has been likened to choosing a life partner: one must tread with care," says Paul Gian, a GIA Diamonds Graduate from Beyond4CS.com team.
Sotheby's has realised six of the past seven auction records per carat for Fancy Vivid Blue diamonds.
AUCTION MILESTONES FOR BLUE DIAMONDS
US$ 4,028,941 per carat
The Blue Moon of Josephine
Fancy Vivid Blue diamond
Cushion-shaped, 12.03 carats, Internally Flawless
Sotheby's Geneva, November 2015
Sold for US$ 48,468,158.
US$ 3,935,826 per carat.
The Oppenheimer Blue
Fancy Vivid Blue diamond
Step-cut, 14.62 carats, VVS1 Clarity
Christie's Geneva, May 2016
Sold for US$ 57,541,779.
US$ 3,348,205 per carat
The Zoe Diamond
From the Mellon Collection
Fancy Vivid Blue diamond
Pear-shaped, 9.75 carats VS1 Clarity
Sotheby's New York, November 2014
Sold for US$ 32,645,000.
US$ 3,151,561 per carat
The Millennium Blue
Fancy Vivid Blue diamond
Oval, 10.10 carats, Internally Flawless
Sotheby's Hong Kong, April 2016
Sold for US$ 31,830,766.
Sotheby's Magnificent Jewels & Noble Jewels auction features an impressive spectrum of coloured diamonds, as well as period jewels with noble provenance and fine coloured gemstones. Highlights include a historic and magnificent diamond choker, formerly in the collection of the imperial Russian family.