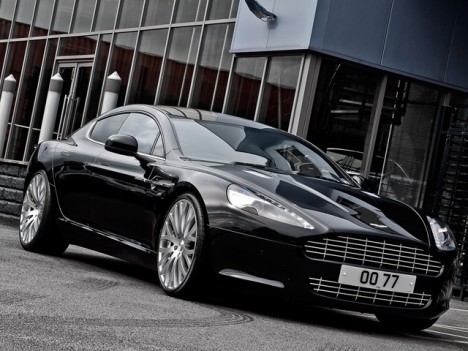 Kahn Design, the British-based engineering company specialised in modifying cars, concentrates on external and internal alterations including wheels, bumpers, aerodynamic aids etc, while engine modifications are carried out by Northamptonshire-based Cosworth. It produces around 10 to 15 conversions a month. One of the latest products is a special conversion program for Aston Martin Rapide.
Kahn Design upgraded the Onyx Black model with a matte black front bumper grille mesh, hood vents in billet aluminum, black brake calipers and matte black side vent grilles. The modification includes new sports exhaust, tinted glass, RSX-F wheels with 21-inch rims in platinum silver finish.
Kahn Design's version of Aston Martin Rapide 4-Door is available for $194,500.
The company has sold a number of vehicles to VIP clients such as Justin Bieber and Katie Price. Who will be the future owners of this gorgeous model?