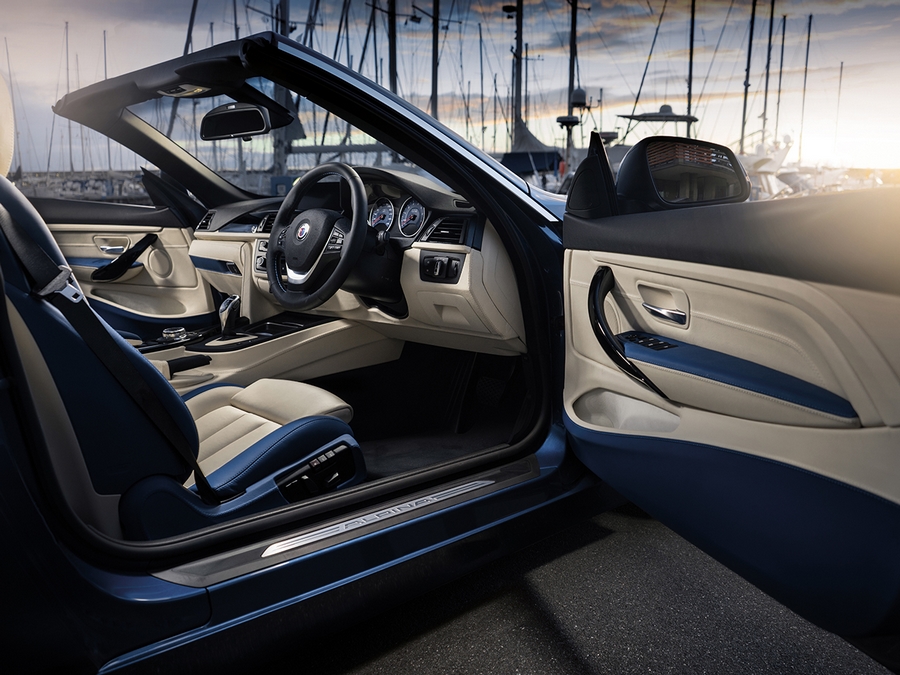 The already potent BMW 4 Series was transformed by German tuning and customization house Alpina in the Alpina B4 Bi-Turbo, a car to be presented at this year's Goodwood Festival of Speed in a coupé and convertible versions. You can catch a first glimpse of the Alpina Blue or Alpina Green car at the Goodwood Festival of Speed (UK) on June 27.
Alpina enhanced speed, handling, and exclusivity with bespoke personalizations, eight-speed automatic gearbox, adaptive sports suspension, and a model plaque showing its unique build number. The car offers effortless performance, abundance of torque, smooth automatic transmissions, an emotional soundtrack and precisely tuned suspensions.
The straight-six 3 litre engine equipped with two turbochargers produces 301 kW (410 hp) and a maximum torque of 600 Nm. The adaptive ALPINA sport suspension and the 8-Speed Sport-Automatic Transmission with ALPINA SWITCH-TRONIC deliver maximum comfort and impressive dynamics. Functional aerodynamics, signature 20" ALPINA CLASSIC wheels and two elliptical double tailpipes are hallmarks of the ALPINA design philosophy.