Mercedes-Benz Museum's first decade marked with anniversary programme.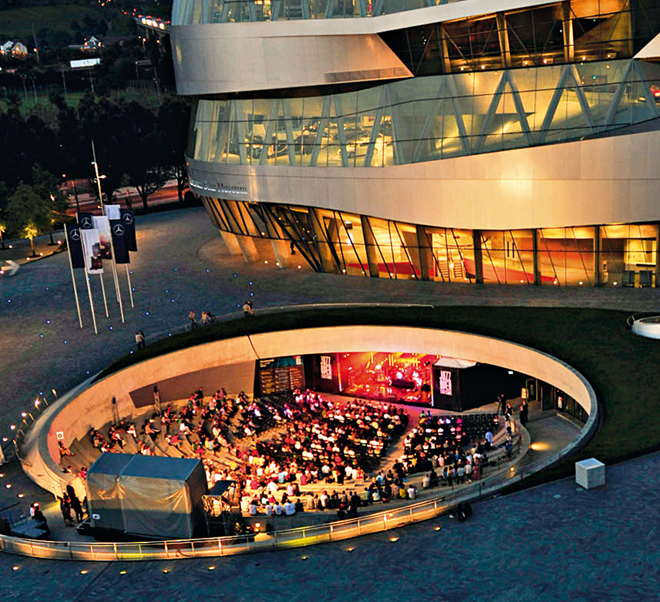 What date could be more appropriate for the launch of a major programme to mark the 10th anniversary of the Mercedes-Benz Museum in Stuttgart? On 29 January 2016, it will be 130 years since Carl Benz registered the patent for his "gas engine-powered vehicle" back in 1886 – a date that is generally considered to mark the birth of the automobile.120 years later, on 19 May 2006, a good two and half years of construction work came to an end with the opening of the new Mercedes-Benz Museum, just outside the gates of the Untertürkheim plant. Right from the beginning, its architecture, exhibition concept and events set new standards in this field.
The museum is an established destination for visitors from all over the world. More than seven million people from over 160
countries have visited the Museum so far to see its display of 160 vehicles and altogether more than 1500 exhibits, on show over an area of 16,500 square metres. The multiple award-winning architecture by Dutch architectural practice UNStudio is perfectly complemented by the exhibition concept developed by the Stuttgart-based museum designer HG Merz: on nine levels, paths wind in the shape of a double helix along a time axis stretching from the invention of the motor car to the present day.
On the day the anniversary programme is launched, 29 January 2016, there are hourly themed tours on special subjects such as the automobile, Silver Arrows, commercial vehicles, Bertha Benz, the architecture of the museum and Women and Cars.
There will also be a special presentation covering the first ten years of the Mercedes-Benz Museum on the Classic Island. The
spotlight throughout 2016 will be on this special anniversary.
A particular highlight over the coming months, alongside the opening of the E-Class special exhibition on 19 May, will be the
anniversary weekend on 4 and 5 June 2016. Fans and families can look forward to a major celebration under the heading "A future always needs a past".
The Mercedes-Benz Museum will be marking this milestone birthday throughout the year with the following anniversary programme:
Special exhibition: Safety cars (until 17 April 2016);
Web series Museum Monday (from 25 January 2016);
Special presentation in the atrium: SLS AMG GT 3 (until 29 February 2016);
Special presentation: 10 years of the Mercedes-Benz Museum (from 29 January 2016);
What's the cow doing in the fridge? Hands-on exhibition for children (16 February to 4 March 2016);
Mercedes-Benz social media night (23 February, 2 March, 6 April, 18 May and 8 June 2016);
Bonhams Auction (19 March 2016);
Long Night of Museums (2 April 2016);
"Tricks for Kids" international animated film festival (27 April to 1 May 2016);
Special exhibition all about the E-Class: Meisterstück-E ("MasterpiEces") (19 May to 6 November 2016);
Pre-work Party and anniversary programme to mark 10 years of the Mercedes-Benz Museum (19 May 2016);
Anniversary weekend marking 10 years of the Mercedes-Benz Museum for fans and families (4/5 June 2016);
Cars & Coffee (every Sunday from 19 June to 4 September 2016);