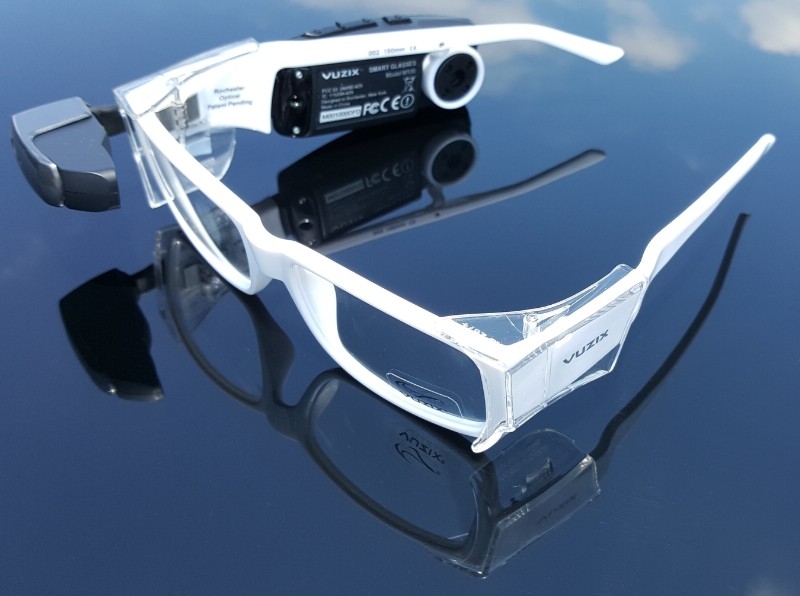 A new technology aims to solve the safety eyeglasses and industrial smart eyewear problems. Vuzix, a leading supplier of Video Eyewear and Smart Glasses products announced that Vuzix M100 Smart Glasses are now available for the first time in a prescription capable safety glass format. Industry leader Rochester Optical has officially launched its ANSI (American National Standards Institute) rated safety glasses for the Vuzix M100. The safety glasses with side shields successfully met ANSI/ISEA (International Safety Equipment Association) Z87.1-2010 standards and are available to innovative companies utilizing Vuzix M100 Smart Glasses in the workplace.
"This safety standard is excellent news for the ongoing development and global sales of Vuzix," noted Paul Travers, President and Chief Executive Officer at Vuzix. "Our devices are used throughout industry and having glasses that not only allow for prescription lenses, but also have the Z87.1-2010 rating gives us an even stronger case for use in challenging enterprise environments."
The availability of Z87.1-2010 certified eyeglasses for the M100 smart glasses will allow companies conducting pilots to roll out programs to more users and ultimately into broader adoption without compromising worker safety.
Employees view the smart glasses display frequently and for long durations. Therefore, in addition to safety, visual acuity, comfort and fashion are critical. Rochester Optical's Smart GOLD Lenses minimize eyestrain and eye fatigue, allowing Vuzix M100 Smart Glasses to be worn
comfortably for extended periods of time. Smart GOLD Lenses compensate for the unique visual demands of smart glasses. Whereas normal prescription lenses are not optimized for devices using a Heads Up Display (HUD) such as the Vuzix M100, Smart GOLD Lenses provide specific adjustments – unique to a user's eyes – for the upper corners of a lens where a HUD is located. This greater visual clarity may help minimize eyestrain and eye fatigue for smart glass wearers. By creating an additional, optimized optical center where the HUD is viewed and
compensating to balance binocular vision, Smart GOLD eliminates prismatic effects and off axis aberrations, providing continuous, comfortable visual acuity.