A bottle of Vin Jaune offered at Christie's auction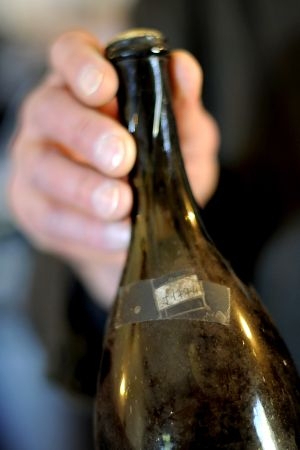 Christie's announced their upcoming auction of Fine Wines in Geneva on Tuesday 15 May at the Hotel des Bergues. This sale of 779 lots comprises truly exceptional wines and is expected to realise in excess of SFr.2,000,000. The most valuable bottle is an extremely rare 1774 'Vin Jaune' coming directly from Arbois, in the Jura region, which is estimated at SFr.40,000-50,000.
Highlights also include a batch of Mouton-Rothschild from 1945 (estimate: SFr.65,000-85,000), a twelve bottle lot of La Tâche 1959 (estimate: SFr.40,000-60,000), and an incredible collection comprised of 338 bottles and 43 Magnums of vintage Château Latour wines.
Michael Ganne, Head of Christie's Geneva Wine Sale, commented:
"Christie's May auction of fine wines in Geneva sounds like the most exciting appointment for the category in the country. Amongst the precious highlights from the sale is a very special bottle of Vin Jaune dated 1774. Being kept intact for eight generations by the Vercel family in a vaulted underground cellar in Arbois, the capital of Jura wines, this 'Burgundy-style' bottle with a long neck and rounded belly, contains 87 centilitres. One of the bottles from the same batch was tasted in 1994 by 24 professionals at Château Pécauld in Arbois, and was declared as 'excellent'. The golden- amber coloured nectar, with flavours of nuts, spices, curry, cinnamon, vanilla and dried fruits, was awarded 9.4/10 points. Made to last centuries when of good quality, and nicknamed 'the wine of kings and the king of wines', this extraordinary bottle of Vin Jaune is probably the oldest unfortified example of what is to be still an astounding wine and another true rarity for wine lovers and connoisseurs."
AN EXCEPTIONAL CHÂTEAU LATOUR COLLECTION
With 338 bottles and 43 magnums, a magnificent Château Latour collection has almost every vintage from the 20th century. Dating back to 1901, some of these vintages have even become rare possessions for the château. For instance a Magnum from 1905, 2 bottles of 1918 harvested just before the World War armistice, and 1 bottle per exceptional year: 1920, 1928, 1929 1959, and 1961. All the wines have impeccable provenance and have been kept in perfect condition since their last auction in 1977 (estimates range from SFr.350 to SFr.15,000).

RARE BURGUNDY WINES
Rare Burgundy wines are also available at Christie's Geneva May sale. From a 12 bottle lot of La Tâche 1959 (estimate: SFr.40,000-60,000) through to a 3 bottles case of Romanée-Conti 1999 (estimate: SFr.32,000-42,000). All burgundy fans can find their happiness in some exceptional whites from Domaine Leflaive including rare formats of both Bâtard, Bienvenues-Bâtard, Chevalier-Montrachet and Les Pucelles.
A MOUTON-ROTHSCHILD 1945
Equally important is a batch of 12 bottles of Mouton Rothschild from 1945: an immortal wine, said to last for another 50 years (estimate: SFr.65,000-85,000). Everyone agrees that this wine is outstanding in taste and also from a historical point of view. In fact 1945 was the beginning of the famous Mouton Rothschild 'artist's labels' series, which involved a number of great living artists creating a specially designed label for each vintage. It is also interesting to know that, with the liberation of France, and to celebrate the return of peace, Baron Philippe de Rothschild conceived the idea of dedicating the 1945 vintage to Victory. He therefore commissioned the young painter Philippe Jullian to produce a graphic design based on the "V" sign made famous by Winston Churchill during the war.