F.P.Journe has developed revolutionary horological concept.  The élégante by F.P.Journe embodies the intelligent watch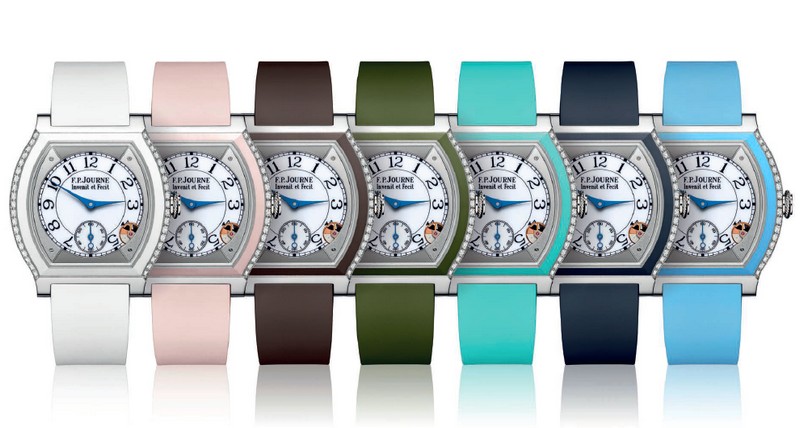 F.P.Journe produces Haute Horology movements visible through a sapphire case back that reveal their beauty, exceptional finishing and noble decoration. The horological expertise demonstrated in F.P.Journe watches and their exclusive assembly process are combined in the new "élégante by F.P.Journe."
The "élégante" by F.P.Journe's integrated circuit features very high-performance electronic components, offering 8 to 10 years of autonomy.
The basic conception of the electronic components is extremely important. This is why F.P.Journe has developed an efficient movement that consumes less energy, benefiting the environment. The élégante by F.P.Journe's integrated circuit features very high-performance electronic components, offering 8 to 10 years of autonomy when the watch is worn and up to 18 years in standby mode. As an ultimate feminine touch, on the back of the movement a heart marks the location of the microprocessor symbolizing the heart of the watch.
"I created a different watch dedicated to comfort of use and adapted to women's modern needs. I wanted a watch that was different, with a very long autonomy and very comfortable," said François-Paul Journe (watch hauteluxe x 2LUXURY2 interview on youtube).
The élégante by F.P.Journe embodies the intelligent watch. This electromechanical watch is fitted with a mechanical motion detector visible on the dial at 4h30. After 30 minutes motionless, the watch switches to standby mode in order to save energy and its hands stop turning.
During the standby mode, the microprocessor continues to measure time, but the mechanical elements – gear train, rotors and hands, stop  moving. As soon as it is worn again, it automatically sets itself to the correct time.
Today it features the only haute horology electromechanical movement conceived and made for the luxury market with a true vision of luxury. With a definitely feminine and refined elegance, its innovative and precise movement adapts perfectly to the way of life of the contemporary woman.
All the mechanical elements of the movement are manufactured by F.P.Journe, followingits standards of state-of-the-art excellence in Haute Horology. The electronic parts are made in Switzerland according to F.P.Journe strict criteria, including a microprocessor specifically created for this watch.
The modern design and unusual shape of the flat Tortue shaped case, trademarked®, and its ergonomically designed rubber strap
providing a perfect fit for all wrist sizes, blends with the performances of an exceptionally comfortable to wear electro mechanical watch.
The flat Tortue case shape adapts to every style from casual to chic. The ultra-light Titanium version makes it also the ideal watch for a sporting activity. Completely water resistant to 30 meters, its screw down crown provides full safety during immersion in water. The red Gold and Platinum versions symbolize city élégance while the sophisticated Jewellery version is adorned with multicoloured precious stones sublimating ladies wrists.
The entirely luminescent dial of the Titanium version offers optimal legibility at night while the hands indicate the time as in a shadow play. During the day, it reminds the gleam of white mother of pearl.
Beyond its very long autonomy, its electromechanical movement provides a great precision, a perfect asset to always be on time.